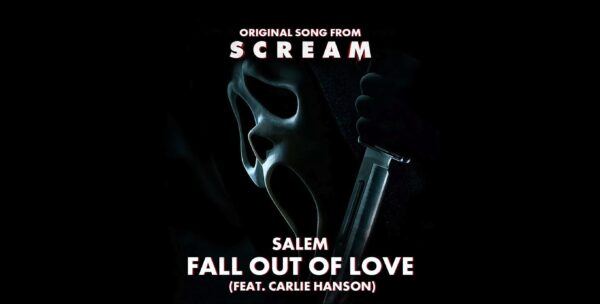 Salem
Fall Out Of Love (Feat. Carlie Hanson)
It is well known already that we think Salem are the best glittering-dark band since forever; so it is no surprise to find that we've been checking notifications across all platforms in anticipation of this special release of 'Fall Out Of Love', as featured in the end credits of the new Scream movie. And here it is, like a wonderful thickened soup of Salem brilliance with extra piano-hammers and strings.
Carlie Hanson parries Gould in a back and forth rendition of the verse, 'Like an apparition appeared in the kitchen; I am overpowered. Hungover and beautiful threw myself a funeral just so you'd have to bring me flowers,' the lyrics and the music perfectly conjuring an atmosphere of goth-punk horror brilliance.
The chorus benefits from especially angelic "ooooohhhhhs" and the vocal arrangement heads in new directions, combining this time instead of the back and forth from the start of the song. The drive within this song matches the original pace, and the vocal production has that plate-reverb tone that remains faithful to the signature Salem sound. You could be forgiven for missing all the extra stuff that's in here… except when we hit the trace your steps section, which rips out each and every goosebump you've got to give, with Hanson's save my soul lines interspersed to great effect.
This song is absolutely epic. It's the song we all loved from that first bright pink EP, but somehow even more atmospherically brilliant.
Watch Salem – Fall Out Of Love
Written by Fenton on
Steve Fenton writes in our music, words, and culture categories. He was Editor in Chief for The Mag and covered live music for DV8 Magazine and Spill Magazine. He was often found in venues throughout the UK alongside ace-photographer, Mark Holloway. Steve is also a
technical writer and programmer
and writes
gothic fiction
. Steve studied Psychology at OSC, and Anarchy in the UK: A History of Punk from 1976-1978 at the University of Reading.
Discover More Music