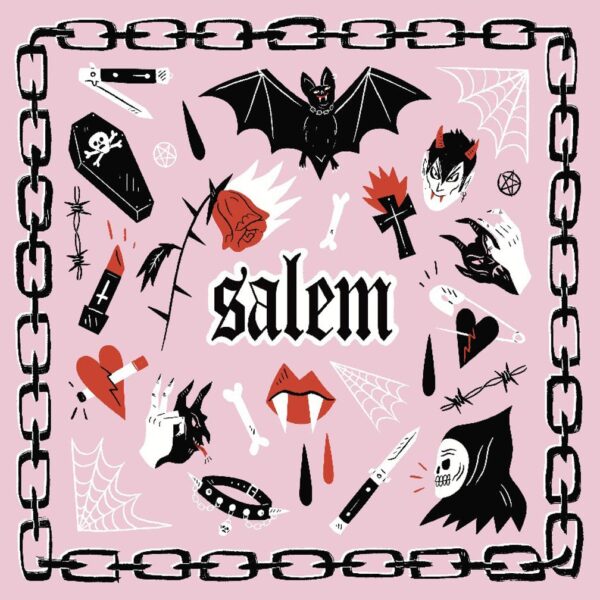 Salem
Salem II EP
The thought of pressing play on Salem's second extended play filled me with trepidation. The first EP was such a frequent player at Phonotonal HQ… what if the new record failed to deliver that same punch? Perhaps it would be safer to stick with the familiar rather than tarnish the memory.
Yeah right. 'William, It Was Really Something' provides the ice-cold cheek-slap I needed to bring me to my senses. Glittering-dark, the song has a soaring chorus that contrasts with those stabby guitar chops from the intro. There's an epic Gould-preach, that takes things into a whisper-quiet breakdown that ends in a magnificent rendition of that chorus line… then it's all over. An instant classic.
All fears now firmly laid to rest, it's over to recent single 'DRACULADS' to keep the EP driving forwards. Buzzcocks. Nick Cave. Twisted gospel. It's all there and it's all brilliant.
After this, the anthemic 'Keep the Thorns' takes the reigns, pumping from the speakers and making us all forget that we only just heard this for the first time. This song is possibly the strongest link between the two EPs, definitely adhering to that Salem sound with the contrasting racing verse and air-punching chorus combination.
Playful and anthemic, 'Sweet Tooth' is full of character and fuzzes along towards the brain-takeover chorus, which simply has to be heard to be fully appreciated.
Already, it's time for the final song; 'Heaven Help Me'. This one has a guitar riff that sounds like a lost Drive-Thru record, there are also plenty of neat chops in the construction here, which successfully makes this song distinctive (yet, still entirely anthemic).
The lyrical content of this record is a bullseye hit for Salem. It's demented painful vampire love and loss and we wouldn't want it any other way. There is also a great deal of musical creativity going on; tones, rhythms, and vocal plays… all landing with an assured confidence.
Can you choose a favourite song from a record such as this? It would be like choosing your favourite child, right? You can't do that; it's just not acceptable. However, like all parents with two or more offspring, the unspoken decision is made and well rehearsed in the event of having to choose which one to save during catastrophic meteor shower. For me, it's 'Sweet Tooth'.
You can listen to the two EPs back to back and pretend that you own the greatest album of goth rock and roll music ever scratched onto vinyl.
Written by Fenton on
Steve Fenton writes in our music, words, and culture categories. He was Editor in Chief for The Mag and covered live music for DV8 Magazine and Spill Magazine. He was often found in venues throughout the UK alongside ace-photographer, Mark Holloway. Steve is also a
technical writer and programmer
and writes
gothic fiction
. Steve studied Psychology at OSC, and Anarchy in the UK: A History of Punk from 1976-1978 at the University of Reading.
Discover More Music