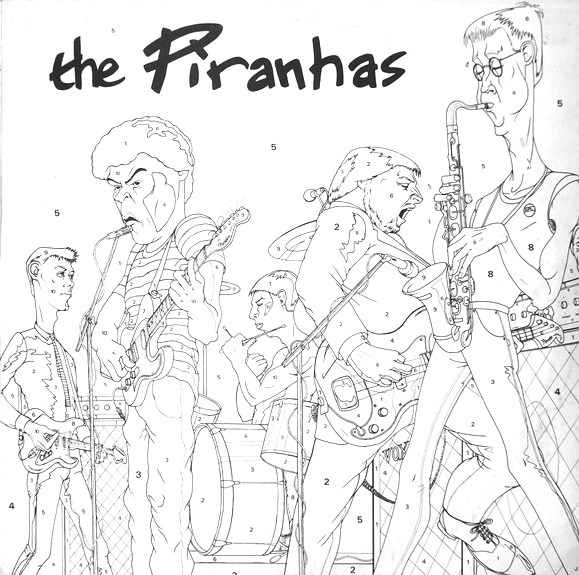 The Pirhanas
The Piranhas LP
This is one sweet attic find. The first and only album from Brighton punk song crafters, The Pirhanas. Jangling clean guitars, quick beats, tidy bass lines, and that saxophone thread are instantly recognisable and the vocal has a strong accented tinge that usually only works for bands from Scotland or London. You'd be forgiven for thinking you'd stumbled upon a lost recording from The Jam.
It opens with the amazingly hooky stop-start of 'Boyfriend', which has an ending that may well be responsible for the Fraggle Rock theme. From that first diki-diki-diki-diki guitar line, this song aces it. The pre-chorus drum beat is a great addition that chops up the sound between the verse and chorus, with the saxophone adding a nice thread beneath the vocal.
This sets up the album really well, it's one of their really memorable tracks and it introduces the elements that are used with different outcomes throughout. For example, 'Love Game' has similar elements, but with the looping bass riff and unusual beat, it has a more eclectic smoulder.
The album is a real mix of punk, ska / two-tone, and new wave. The thing that ties it together is really the unusually everyday-social lyricism – excellent songs about everyday concerns. It's a mix of the faster stuff and the more rhythmic material, with songs like 'Something' and 'Getting Beaten Up' joining 'Boyfriend' as being the most recognisable and enjoyable stuff. There are some really good lesser-known songs here too. 'Tension', 'Pleasure',
They went on to release some great singles, including their epic version of 'Tom Hark' (originally a South African kwela song) and the Chas and Dave flickers of 'Yap Yap Yap'. Their single 'I Don't Want My Body' got John Peel's attention, but there was never a second album. Like the Sex Pistols, their music is available is a few forms, with the original album joined by their other recordings as a big bundle and it's all worth a listen.
The saxophone gradually fell out of favour, perhaps due to the music industry jumping on a major saxophone bandwagon shortly after this era. The Cure's 'A Night Like This' may well be the last good song with a saxophone solo after Duran Duran's 'Rio' perhaps being the start of the fall three years prior. The way the instrument is used within The Pirhanas' sound, though, shows how it should be done. It's there throughout, one of the proper instruments; not just a fashionable surprise solo two-thirds of the way through a pop song.
The Pirhana's influence seems obvious in hindsight. There are little hooks and melodies that you'll recognise as present in a good many more recent works.
Watch The Pirhanas – Boyfriend
Discover More Music