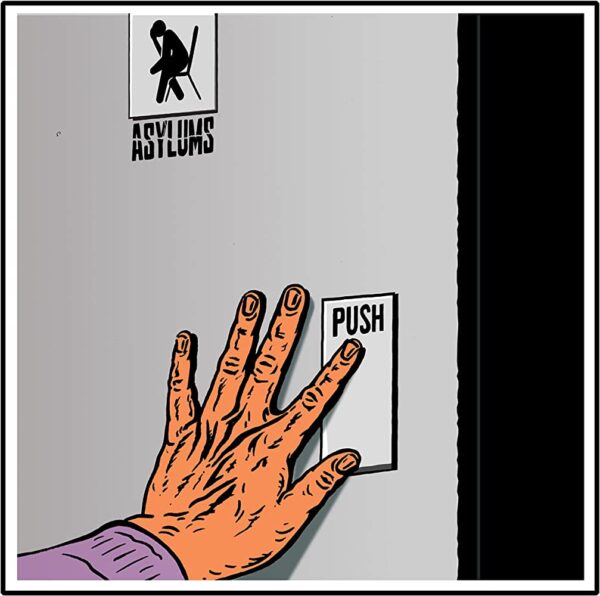 Asylums
Understand the Psychology
Asylums have three albums in the bag and are getting ready to release their fourth, Signs of Life, on 14th October 2022. 'Understand the Psychology' is here to give us good feelings about their new long player.
This single has a punchy stomp with its pow-pow-pow intro and bass-led verse. The guitars add smart sparkles as we approach the switch-up, and then we're in the chorus. Here we have a great melody that injects an emotional twist into the otherwise bounce-laden song.
I understand the psychology
Of the people standing close to me
I can take them anywhere
They're always in my heart as living proof
I can share my philosophy
In the moments we don't need to speak
I can tell you honestly
It's always in my heart to let me know
To let me know
A bit of lead guitar propels us into the next verse, the long fade-out trailing long into the first line. It quickly builds with the first-verse guitar motif joined by something crunchier in the left speaker. In the second chorus, the lyrics switch to 'I can share my philosophy the way we were is not the way we'll be', which provides an emotional twist just as you land in the atmospheric bridge.
Asylum land somewhere between Britpop and alt-rock; a strong drive featuring clever instrument parts without being showy. 'Understand the Psychology' should moisten you up for the new album.
Watch Asylums – 'Understand the Psychology'.
A brief history of Asylums
With Asylums, the past albums are also worth checking out.
Their debut album Killer Brain Waves (2016) has chaotic energy and plenty of punchy hooks in songs such as 'Second Class Sex', 'Joy in a Small Wage' and 'Wet Dream Fanzine'. This record was like a re-invention of Britpop's edges, in a fast and vibrant style, like Elastica with extra Richard Oakes flicks and a bit more rock.
Alien Human Emotions (2018) was a great follow-up. 'When We Wake Up' is an instant classic, and 'Alien Human Emotions' brilliantly smuggles some talented musicianship into a song without losing the bouncy ba-ba-ba style. The album continues the theme of injecting a vibrant excitement into the Britpop roots, with a little more Beatles around the edges.
2020's Genetic Caberet was perhaps the most 90s authentic, referencing Menswear, Gene, Marion, and Suede. The songs have a bit more bite, the guitars are allowed to get more crunchy, and the drums can smash through harder, but that unmistakable blend of songwriting and musical talent is anchored in one of the best eras of British music. Listen to the first three tracks and you'll be hooked.
There is evolution throughout their long players. Subtle switches take the sound in different directions, and the production certainly gets slicker over time. If you like one of their albums, you'll like the others because they are differently similar.
This history is useful because you can rest assured that if you enjoy 'Understand the Psychology' and subsequently procure a vinyl edition of Signs of Life, you'll be able to sate your appetite for more by working your way backwards.
Written by Fenton on
Steve Fenton writes in our music, words, and culture categories. He was Editor in Chief for The Mag and covered live music for DV8 Magazine and Spill Magazine. He was often found in venues throughout the UK alongside ace-photographer, Mark Holloway. Steve is also a
technical writer and programmer
and writes
gothic fiction
. Steve studied Psychology at OSC, and Anarchy in the UK: A History of Punk from 1976-1978 at the University of Reading.
Discover More Music