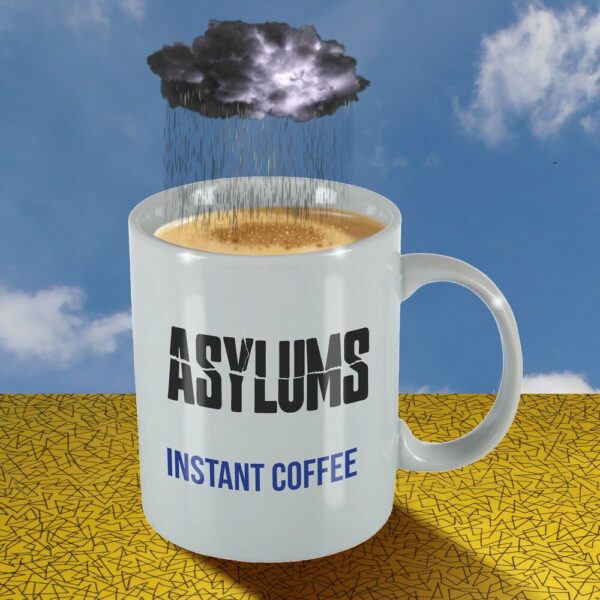 Asylums
Instant Coffee
In my opinion, the bleaker your lyrics, the more artfully they must be handled. You might be able to ghost/most/toast your way through a single-use plastic positivity song, but as the stormy clouds roll in you need poetry to resonate.
And this is where Asylums excel. They take that dreary quotidian muteness and spin the grey into gold. The first verse slaps this intent on the table, accompanied by bu-baa beats and perfectly sparkling guitars:
There's a hole that's inside
A black cloud in my blue sky thinking
I lay awake but never speak of it, no
Waking up to routine
In wastelands where we just earn a living
This quiet thought will percolate for years in me now
The musical mood lifts for the chorus. Is that a brief crack of light breaking through the gloom? Well, sort of. The music gives you a feeling of hope, but the chorus is an anthem for what we must admit are some depressing modern times. As the chorus thickens into an orchestral delight, it just makes the words hit deeper.
I sit and drink my instant coffee
While the world is in despair
All around me faces start to frown
As our freedom turns to fear
I sit and drink my instant coffee
Try to work out why I'm here
All around me people start
to drown in a reservoir of tears
As a song, 'Instant Coffee' isn't here to give us the answers or tell us everything is gonna be okay. This song is a tight hug from someone else who just feels the same. All we can offer is Lincoln's famous maxim: "This too shall pass". Until it does, Asylum are here to share the feelings (along with a coffee resplendent with floaty bits… why won't they mix in?)
The New Asylums Album is Coming…
The album, Signs of Life, is available with four songs to tease you at the depth and variety Asylums are preparing to launch at us. 'Instant Coffee' is a great single to follow 'Understand the Psychology'. Encore, my friends. Encore.
Watch Asylums – Instant Coffee.
Written by Fenton on
Steve Fenton writes in our music, words, and culture categories. He was Editor in Chief for The Mag and covered live music for DV8 Magazine and Spill Magazine. He was often found in venues throughout the UK alongside ace-photographer, Mark Holloway. Steve is also a
technical writer and programmer
and writes
gothic fiction
. Steve studied Psychology at OSC, and Anarchy in the UK: A History of Punk from 1976-1978 at the University of Reading.
Discover More Music