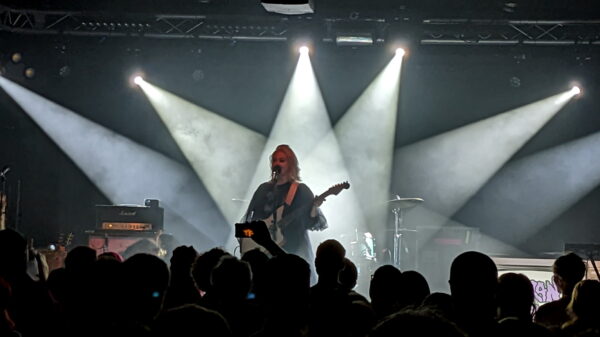 Lauran Hibberd
Live (Viji / Daisy Brain)
The Wedgewood Rooms aren't just filled with old posters featuring some well-known acts to play the venue over the years; they are stuffed full of memories. Delays, Allister, The Early November, Therapy, Pickled Dick / Mike TV, Gene, Dead Jack. Wow… it's all flooding back. The place is legendary.
So on a rowdy Saturday on Albert Road, we stepped around the rumpus and entered the hallowed building once more for Lauran Hibberd, with support from alt-pop artist and Garageband Superstar collaborator, Viji and grunge revivalists Daisy Brain.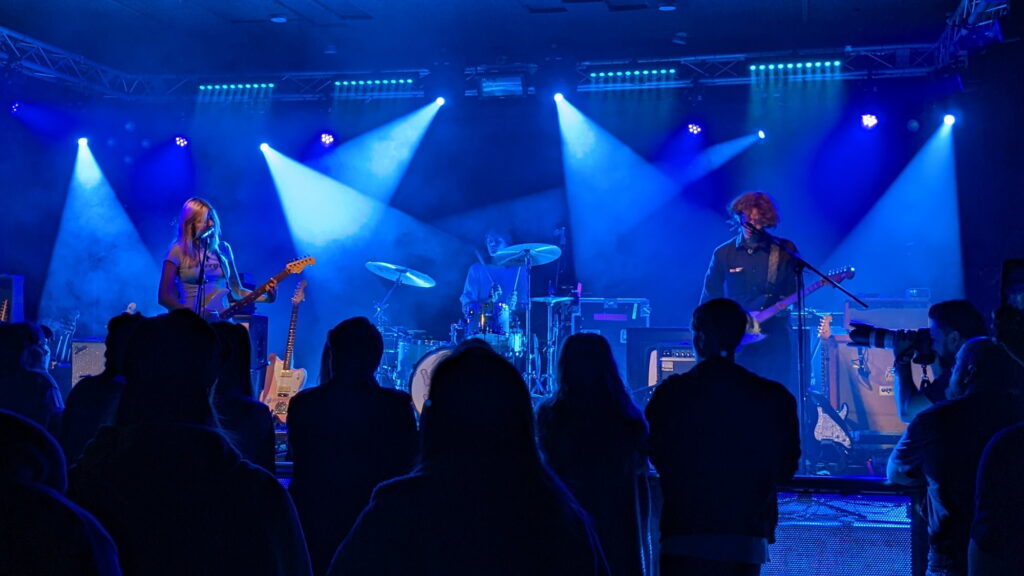 On record, Viji's alt-pop is pleasing enough, but the songs had more bite live. I enjoyed how the songs sounded with a little more punch. The first song was spent adjusting to the surprise, but from the second set list entry to the very end this was an impressive performance.
The bass drum was perhaps given too much of a starring role in the mix, but we all enjoyed the vibrations and the songs still cut through the throbbing beats of doom.
Viji has plenty of great songs and they sounded good, even with the "first band on" mix.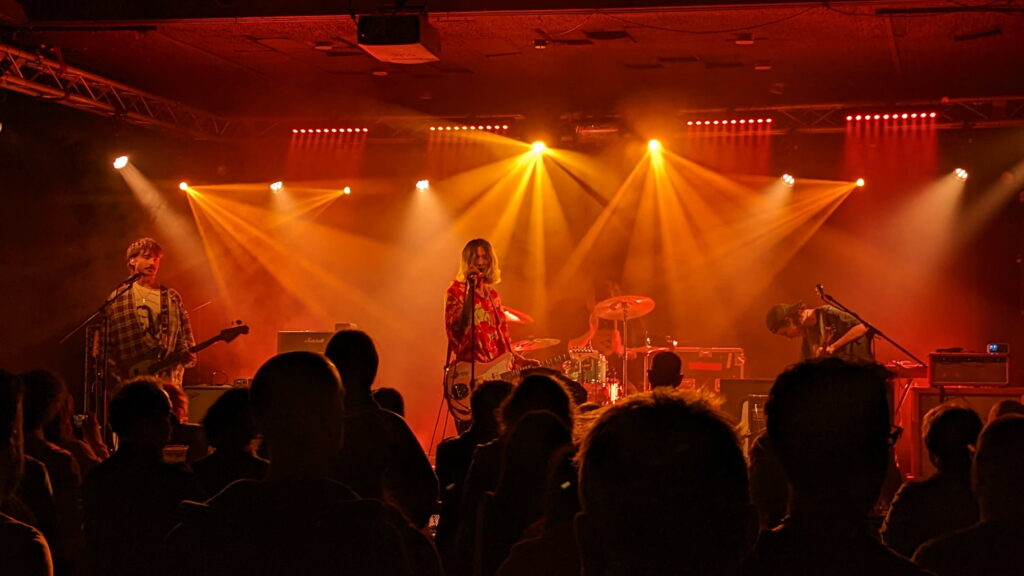 Daisy Brain arrived in an explosive mix of grunge and Britpop. The songs were punchy, and they certainly knew how to bring guitars in and out of the mix to create a dynamic audio experience. There were also lots of hooky guitar motifs, and the vocal delivered both Ritter-eqsue melodies and Cobain-style cracked edges.
Look, it's about time we had a grunge revival. The genre is definitely unfinished business, with very few bands having that head-swimming thick tonal quality that Nirvana gave us. Daisy Brain own that grunge space, with moments from the less obvious nineties Brit scene, such as Longpigs.
There was a fun moment when Will Tse addressed the crowd. "We were told there was a beach here, but we couldn't find it!" Half the crowd raised their arms in unison to point like a human compass to the coast, shouting: "It's over there," like some kind of pantomime and, perhaps, missing the comic reference to the Southsea shingle not exactly being the sandiest stretch of water. (It's still a nice beach, though – don't write in!)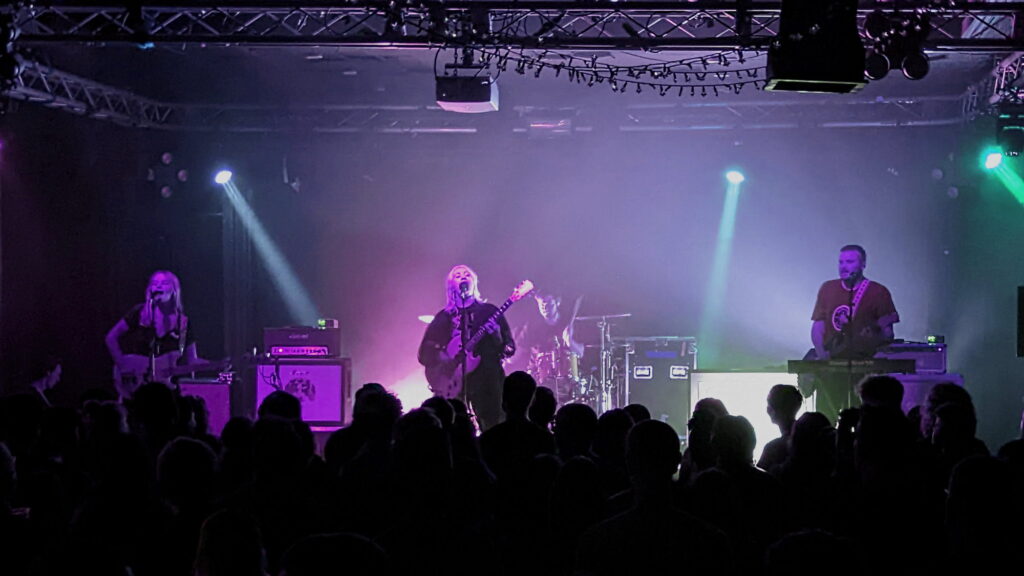 Lauran Hibberd exploded out of the gate with a high-energy performance of 'Average Joe'. This was to set the pace for the whole set. A string of slacker pop and hits was interspersed with candit and witty banter in a set that never lost its stride. "You're very static," Hibberd quipped. "If I'm sweating up here and you're all as dry as a camel in the Sahara, that's not gonna work."
The sweating was analysed in more detail in later breaks, along with IBS and inattentive boyfriends. Well, boyfriend – singular – and I expect you'd know if this referred to you. The chat wove the songs together into a documentary narrative, and the songs were awesome.
We were treated to almost all the songs from Garageband Superstar, as well as treats from the back catalogue, such as 'Bleugh', 'How Am I Still Alive', and 'Call Shotgun'. The performances were all true to the record, but various tweaks had been applied to create some extra moments; just a longer pause before the band hit the big sections here and there.
The wonder of Hibberd is that a bunch of enjoyable and energetic songs have such lyrical finesse. Not a literary style, but witty approaches to dealing with real subjects. Singing along to this stuff probably makes you a better person, though nobody has done the research to prove it yet.
Although they were gleefully playing along with the fake-end-of-set charade, the crowd were genuinely sad to see Lauran leave the stage. Both times.
Watch Lauran Hibberd – Average Joe (Live at The Wedgewood Rooms).
Lauran Hibberd – Portsmouth Set List
This is the full set list for Lauran's performance at Portsmouth's Wedgewood Rooms:
Average Joe
How Am I Still Alive
Get Some
Bleugh
Hole in the Head
Sugardaddy
Hot Boys (with Viji)
That Was a Joke
I'm Insecure
Call Shotgun
Chalie's Car
Garageband Superstar
Still Running
(encore…)
Slimming Down
Rollercoaster
Last Song Ever
Written by Fenton on
Steve Fenton writes in our music, words, and culture categories. He was Editor in Chief for The Mag and covered live music for DV8 Magazine and Spill Magazine. He was often found in venues throughout the UK alongside ace-photographer, Mark Holloway. Steve is also a
technical writer and programmer
and writes
gothic fiction
. Steve studied Psychology at OSC, and Anarchy in the UK: A History of Punk from 1976-1978 at the University of Reading.
Discover More Music