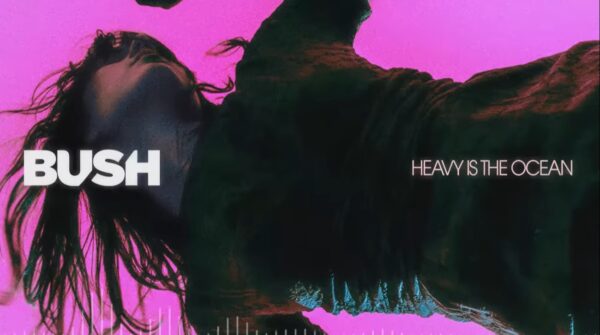 Bush
Heavy is the Ocean
The bass is the first thing to hit you in the new single from Bush, 'Heavy is the Ocean'. It's soon joined by crashing drums and a smouldering guitar, but the bass remains the star of this dark rocker.
The lyrics match the song's tone, though 'this fuckery could be the death of us' is silver-lined with the later 'this bravery will save the world a bit' as the pre-chorus echoes itself with more hope. Rossdale's voice is big in this track, tonally rich and powerful. Atmospheric? Very.
The song has a slow pace but is a heavy-hitter. Each strike of the drums, each attack on a string; it's like a wound-up spring snapping. It's like some real dark clouds creeping towards you from the horizon. 'More Than Machines' had a similar wide sound, but 'Heavy is the Ocean' really takes it further down the dark path. Both tracks have visceral social commentary.
I think 'Heavy is the Ocean' might be one of their best tracks ever.
The new album from Bush, The Art of Survival, is out on 7th October.
Listen to Bush – Heavy is the Ocean.
Written by Fenton on
Steve Fenton writes in our music, words, and culture categories. He was Editor in Chief for The Mag and covered live music for DV8 Magazine and Spill Magazine. He was often found in venues throughout the UK alongside ace-photographer, Mark Holloway. Steve is also a
technical writer and programmer
and writes
gothic fiction
. Steve studied Psychology at OSC, and Anarchy in the UK: A History of Punk from 1976-1978 at the University of Reading.
Discover More Music