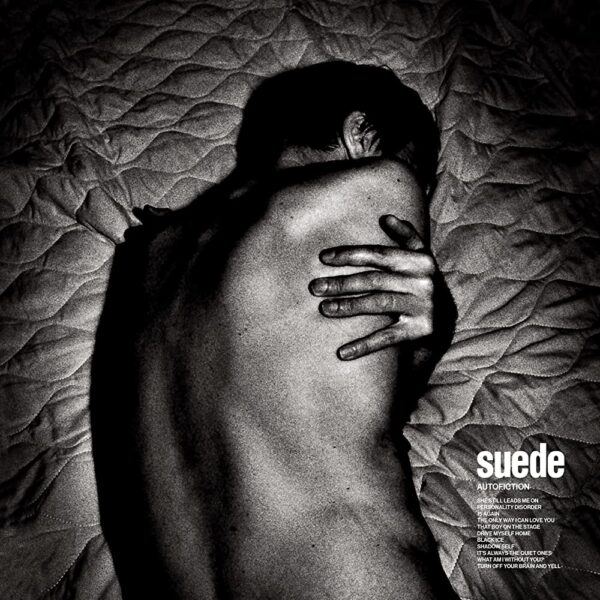 Suede
Autofiction LP
Autofiction is the latest album from Suede, and it offers a heady mix of mighty melodrama and luxurious pop. Like Disquiet was an echo of Troublegum for Therapy, Autofiction is Suede reflecting on and reinventing their own sounds. A peek at three decades of Suede through the lens of experience.
For fans, this means a blissful track listing. There's plenty to rifle through in this collection. From the emotional anthem zone, we have 'She Still Leads Me On' sending shivers and '15 Again' stomping out its great big chorus. In the darker section, 'Personality Disorder' is black and white grainy glory with a spoken verse and chanted chorus.
Atmospheric offers are also burned on the altar. 'The Only Way I Can Love You' has rich strings, and 'Drive Myself Home' offers a real chill with its ambience, the chorus providing something entirely epic. There's even a Bowie-esque spin to 'It's Always the Quiet Ones'.
The album has the right level of production. Back in the nineties there was, perhaps, a bit too much. Sure, the records were polished to crisp crystal brightness, but you couldn't help but feel that the Suede you saw live wasn't getting captured in its entirety. With Autofiction, the album is superbly made but retains the crackles of authenticity that bring energy to the music.
Albums can sometimes be the sum of their parts, but in cases such as Autofiction they are much more. The selection and arrangement of songs creates a more complete story. There's strong balance between the different moods and you are taken on the journey rather than abruptly switched. The ebb and flow of the story match the atmosphere of Coming Up, but with moments that certainly bring their debut long player to mind.
Listen to Suede – It's Always the Quiet Ones.
Written by Fenton on
Steve Fenton writes in our music, words, and culture categories. He was Editor in Chief for The Mag and covered live music for DV8 Magazine and Spill Magazine. He was often found in venues throughout the UK alongside ace-photographer, Mark Holloway. Steve is also a
technical writer and programmer
and writes
gothic fiction
. Steve studied Psychology at OSC, and Anarchy in the UK: A History of Punk from 1976-1978 at the University of Reading.
Discover More Music