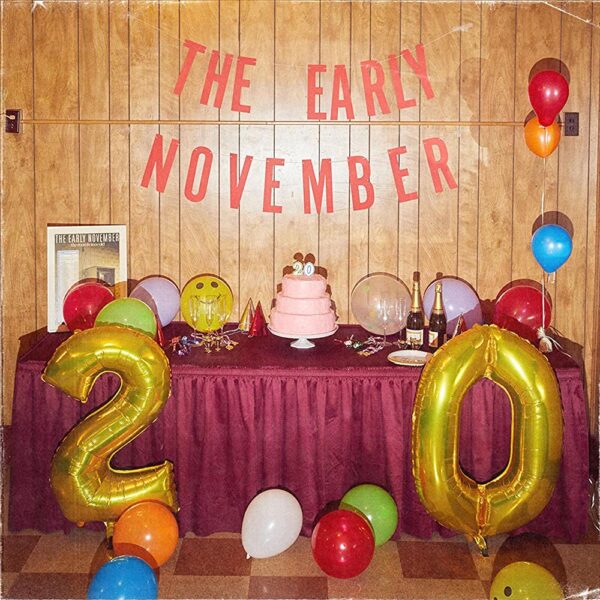 The Early November
Make It Happen
Way back in the naughties, The Early November made an acoustic EP and named it The Acoustic EP. They developed their record-naming chops a little later. On that EP was a track called 'Make It Happen'. The song somehow avoided landing on a long player… until 2022 when it lands on their new album Twenty.
So press play and, ah, yes there's that amazing sound. Nobody can really inflect the word 'stroll' like Ace Enders. It's one of those signature moves that makes this band outstanding. They play around the theme, tempting some guitars, then dropping back to just bass and drums for a smooth and gentle chorus. Then we get the full band intro, and the guitar tones take us right back to The Room's Too Cold.
Tonight, under the light, we stroll
And we're never coming back
Yeah I swear I'll never wanna go
If you come away with me
If you're eagle-eyed, you'll notice some subtle lyrical adjustments here. It's been tidied up but it all remains thematically the same.
The verse chugs along wonderfully, the pre-chorus takes things up a few notches, and the chorus delivers words like they're another part of the rhythm section.
Never gonna know
Never gonna know
Let's go out of this place
Make it happen
I'm kinda hoping there are a few more of these on the album… songs that are artful and heartfelt. They don't all have to kick it out, but who doesn't like getting lost in a song? 'Make It Happen' makes me feel pretty excited for the long player. The Early November are such a talented band and rated well below their songwriting and musicianship. On this record, there are some seriously emo feels going on, and that's what they've always been great at.
Twenty is released in October, which I think we can all agree is very early November!
Watch The Early November – Make It Happen.
Written by Fenton on
Steve Fenton writes in our music, words, and culture categories. He was Editor in Chief for The Mag and covered live music for DV8 Magazine and Spill Magazine. He was often found in venues throughout the UK alongside ace-photographer, Mark Holloway. Steve is also a
technical writer and programmer
and writes
gothic fiction
. Steve studied Psychology at OSC, and Anarchy in the UK: A History of Punk from 1976-1978 at the University of Reading.
Discover More Music