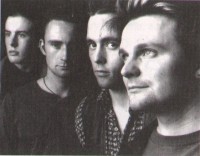 River
Send In the Clones EP
River are a pop-rock four piece with undeniably anthemic songs. This EP features four of them and it is actually rather brilliant.
Opening number, 'One Beautiful Moment', has instant appeal, with a very upbeat chorus, which contrasts with the dark rolling verses. The guitars are subtle, but extremely well played. After some tempo changes and a break that leads you in to a very quiet chorus you can predict that there is about to be an explosive key change, but it doesn't stop you from enjoying it when it happens.
'Don't Live for Tomorrow' is made from similar material. A rock verse followed by memorably dramatic chorus. The bass guitar in this track is slightly blocky, but this is solved about half way through each verse when the guitars kick back in.
The title track 'Bring on the Clones' has a slightly more upbeat feeling when compared to the first two songs. This is a song full of substance and you start to wonder how one band can produce so many great tracks.
The last offering on the EP, 'Turns Me Inside Out' is an emotional rock track and is perhaps the most downbeat on this recording. However, it still maintains the general theme with the assured vocals of Ali Loaker, steady drums, and quality guitars.
There are a few clichés on this record, but this is a pleasing cross between Therapy? and pop-rock that will compell you to listen to it again and again. It hasn't worn off on us yet!
Written by Fenton on
Steve Fenton writes in our music, words, and culture categories. He was Editor in Chief for The Mag and covered live music for DV8 Magazine and Spill Magazine. He was often found in venues throughout the UK alongside ace-photographer, Mark Holloway. Steve is also a
technical writer and programmer
and writes
gothic fiction
. Steve studied Psychology at OSC, and Anarchy in the UK: A History of Punk from 1976-1978 at the University of Reading.
Discover More Music