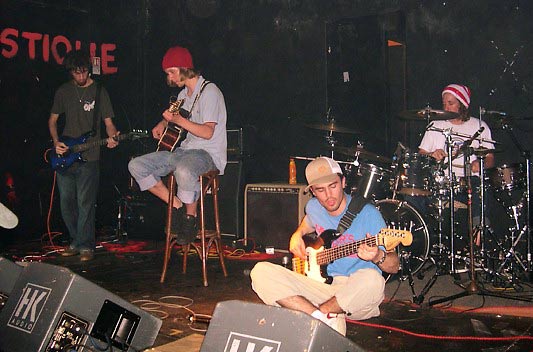 8Fold
Live (Kingskin / The Big)
Three Pounds!
The first band to play tonight at Winchester's Railway Inn were The Big, a ska band so tight you could get injured just by listening to them. They represented the first one-hundred pence of this £3 ticket and were top notch. If you like ska and want to see the real deal, these guys are it.
The songs were just what you would expect from this style of music, but the lyrics combined with the precision really made The Big stand apart from similar acts.
Kingskin were up next with their blend of British and American. Think part Reef and part Puddle of Mudd.
The first half of their set was a real treat, with memorable songs that were played with a good level of flair. The mid point of the set featured an unfortunate cover that detracted from this otherwise good start. This stumble wrecked the flow and impacted the second half of the set, which was at times overly complicated. It would have been better for the band to have been remembered for their own material.
Headliners 8fold mixed current sounds like Lost Prophet with classics like the Red Hot Chili Peppers. Each song was a distinct enough from the others and there were a couple of real shiners that could easily earn 8fold a decent showcase in front of the suits. There were at least two singles in there and the whole set was executed with guts and belief.
The front man did a good job of engaging the crowd and had an obvious sense of fun. And a special mention goes to the drummer, who shifted between funky shuffles and break beats without even blinking.
The bottom line with 8fold was that the songs were good (to the point that you could sing along after hearing them just once) and the talent of the musicians was unquestionable!
Written by Smith on
Stuart 'Saur' Smith was a prolific writer for The Mag throughout the magazine's lifetime. He combined a day job of temporary office jobs in London with a nightlife of trawling the capital's music venues looking for talent. As well as writing about music, he was a session musician who featured on a number of singles in the 90s. Today, Stuart is a Chief Writer for Phonotonal.
Discover More Music