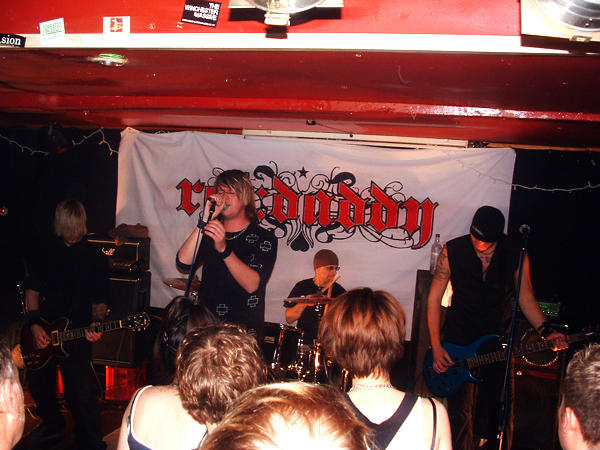 Rat:Daddy
Interview at The Railway
Shortly before they took to the stage at the Railway Inn on 14th December 2003, Rat:Daddy had time to have a casual chat with the mag.
Rat:Daddy are a rock and roll band who started life in 2001 with brothers Tim and Ian on drums and bass guitar respectively, Jon on guitar and keyboard, and Gav on Guitar. In August 2003 Gav left the band and was replaced by new guitarist, Jimmy Love.
What inspires you?
Anything with a melody, it doesn't have to be rock and roll, it just has to have a catchy tune. Bands like Motley Crue, Cheap Trick, and Genesis…
Do you think that all drummers should end up fronting the band?
Not ours!..
Where do you see yourselves heading?
We really enjoy touring, we'd love to be able to do that full time. We have been playing lots of gigs to get some coverage and have played around the UK, including Scotland and back. We are hoping to play in Holland in spring 2004… hopefully in Amsterdam!!!
Do you have a favorite venue?
We like playing here [the Railway Inn] because the crowd are great and the sound is really good. We also like the Wedgewood Rooms, they always treat you good and make sure you get time to soundcheck, we played there with Rachel Stamp and Halo. The Joiners is always a great venue too.
Have you gained many fans on tour?
We have a mailing list that has been filling up as we've gone round. We are going to make our website more interactive so the fans can keep up to date and talk to each other! When we tour next year we want to play with a band that is local to each venue so we can get heard by more people.
Does it get stressful on tour?
We really enjoy it, it is sometimes a bit of a blur. We always give each other space when we need it. We were on tour during the heatwave this year, 5 guys in a Mondeo with no air conditioning, because it used too much petrol! We played most of the gigs half-naked.
How did you resist turning the air conditioning on?
[Tim] I didn't, I kept turning it on and the other guys had to keep turning it off because of the petrol and because it actually slowed the car down.
Do you always put stickers in the toilets at venues?
We must be the only band without stickers and badges! People don't want to see stickers in the toilets, they want to see minge.
When will your album be available?
April or May 2004, we will be releasing the album and then going on tour. The album is going to have some of the songs from the EPs, but new versions, as well as a load of new stuff. We are recording it in a studio that belongs to our old guitarist and we want to capture the live sound and really get it sorted.
What can we expect tonight?
In your face festive rawk and roll and pants off pop!!
Written by Fenton on
Steve Fenton writes in our music, words, and culture categories. He was Editor in Chief for The Mag and covered live music for DV8 Magazine and Spill Magazine. He was often found in venues throughout the UK alongside ace-photographer, Mark Holloway. Steve is also a
technical writer and programmer
and writes
gothic fiction
. Steve studied Psychology at OSC, and Anarchy in the UK: A History of Punk from 1976-1978 at the University of Reading.
Discover More Music