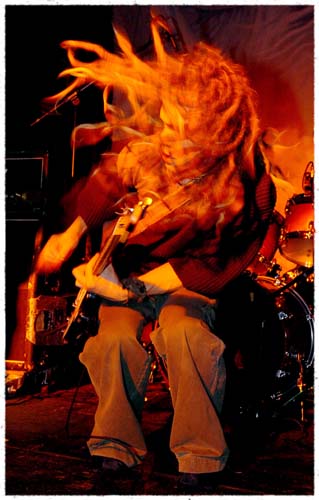 Radiate
Stranger Than Fiction EP
Apologies first off to Radiate for the delay in reviewing the CD. I blame Rockstar Games and the decay of western society… Anyway, moving swiftly on…
If looks alone are anything to go by, then Radiate are a slick, dark, and confident band. The production value is second to none both in presentation and recording while the music itself did not disappoint the relatively high expectations I had of them prior to listening.
'Stranger' rumbles into life with an 'Angel Interceptor' style intro and from there on the music grinds through like a steamroller in a glass factory. The distinctive vocals add extra menace to the tunes and, whilst not heavy thrash metal, they manage to make an immediate impact on the first hearing.
The guitar effects add an extra feeling of atmosphere and, in a little under three minutes, the wall of sound climaxes with the best sound of all – feedback.
All the four songs on offer here seem to have been recorded whilst they practise, the only thing that gives it away is the fact that this album has been engineered extremely well. The instruments are well balanced and this allows them to each have their own little arena in which to make as much noise as possible.
Throughout the record there is both a sense of urgency and an overwhelming desire to make every note count, which is apparent in every song. 'Question', with it's punchy verse leading to the funky chorus, is probably the darkest song on offer. The sound could easily be compared to a mix of Chilli Peppers and Lost Prophets and all together, it works very well.
The final track, 'Everything', just reinforces the songs that precede it. Their formula consists of reeling you in with a distinctive rock verse, luring you into the more sentimental chorus, and finally spitting you back into the rock verse again.
It's hard to find much fault with Radiate at all, especially on this offering. However, the real beauty about these tracks is I doubt the overall effect would have changed much if they had recorded this onto some little cassette four-track.
Definitely a band to see live and definitely a good addition to any music collection – thanks fellas!
Radiate Articles
Discover More Music