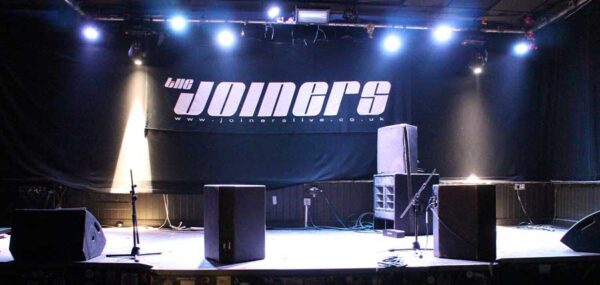 Adequate 7
Live (Lo*Chine / Splendid Eddie)
Sometimes life is slow and boring and other times it's fast and tiring. When it's slow and boring you wish it was faster, and when it's faster you're so bloody knackered you wish it was slower so you could get some damn sleep. On this occasion however, I was glad to wear myself out on two consecutive nights at The Joiners in Southampton, which I will document for you here. You lucky sprites.
As Thursday is so close to the end of the week and nobody does any work on a Friday anyway, I made the wise decision to go and see the much hyped Adequate 7.
First up were Splendid Eddie, who I watched from the back of the venue and I wasn't that impressed to be fair. They have great parts, like the singer and the guitarist for instance, but the brass section just wasn't up to it and was a tad too loud for my liking. It often went a bit Incubus giving the singer a chance to shine, but this wasn't really enough. Beer time methinks.
Having got something to sup I returned to see a bit of Lo*Chine, a Southampton based band even more akin to Incubus than the previous band. The instrumental side of things was impressively tight, as all funk-based bands should be. The bassist and drummer made it look easy, whilst the guitarist grimaced and grooved in much the same way as I do whilst playing stupidly easy riffs on my mates bass guitar (it's all about the funk).
Although the singer was clearly a great talent, it seemed a tad out of place. The angelic vocals seemed more soul than funk, which didn't really make full use of the hooks and grooves being expertly provided. Definitely worth checking out though.
Having never heard a note of Adequate 7 before, I had absolutely no idea what to expect. So let me not beat around the bush when I say that they were one of the best bands I have ever seen perform at Southampton's humble Joiners. If I could type the unpronounceable voices I made whilst witnessing these guys rip it up I would, but being unpronounceable they're pretty much un-type-able too. I suppose the closest thing in audible English is 'pure sex'. Seriously, that good.
Anyone who has heard Adequate 7 before will know what they're like however, for the sake of all else I'll just list the elements that make them up. Funk, punk, rock, hip hop, ska, blah blah blah. It's the best of all of those, capped off with a vocalist who owns the damn stage from the minute he steps onto it.
The main driving force however, is the stunning brass section with the best trumpet player I have ever seen perform live. Everything about this band makes me want to tell you to go and see them. Oh yeah, there's a problem there.
This was their fare-f*cking-well tour, and to cap it off their tour manager was only the trumpet player from Lightyear, yet another great band whom I only discovered on their farewell tour this year (albeit in a stinking barn at Truck festival). When Mr Lightyear got onstage to sing a song I felt so bloody riled that my alcohol intake had convinced me that they were teasing me, waving both bands under my nose and making me realize just how much great live music I've missed from them over the last few years. Luckily I was a pint short of plucking up the courage to slap Mr Lightyear on the head for this, so I patted him on the back for a job well done instead.
An awesome performance. See their last ever gig in Cardiff in December. You'll thank me for it.
Guest article from Matt S.
Written by Guest Writers on
Between 2003 and 2009, [the-mag] had regular contributors from music correspondents covering their local scene. You'll find them all in the guest writers section. The specific writer is mentioned at the bottom of each article.
Discover More Music