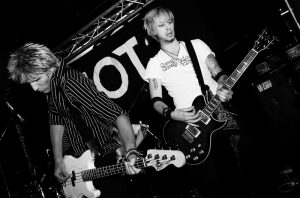 Idiot3
Reasons
Idiot3 is brought to life in this single courtesy of atmospheric guitars, big melodies and a bass line that drives long distances without a toilet break.
'Reasons' is the explosive opener with a stomping beat, thundering guitars in the chorus, and a verse made of pure crystal. You'll find there is much going on in this track and more details pop out with every listen.
With a gentler opening, 'Alive in Blue' is a dark rocker with an intelligent verse and emotive chorus.
It's appealing… in fact, it's downright brilliant with a cascade of clever moments to keep it all interesting and floods of hooky moments and big crashing sections to keep up the anthemic theme.
Written by Smith on
Stuart 'Saur' Smith was a prolific writer for The Mag throughout the magazine's lifetime. He combined a day job of temporary office jobs in London with a nightlife of trawling the capital's music venues looking for talent. As well as writing about music, he was a session musician who featured on a number of singles in the 90s. Today, Stuart is a Chief Writer for Phonotonal.
Discover More Music