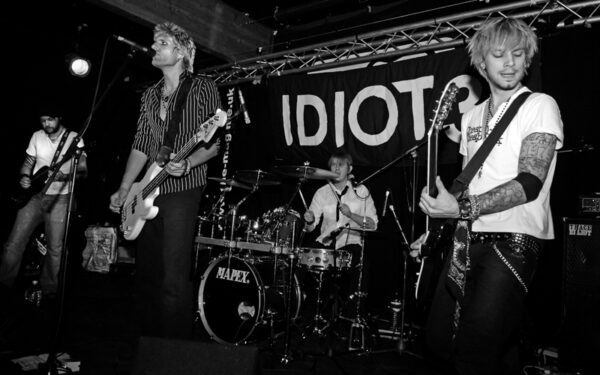 Idiot3
The Mag Awards Show Preview
Idiot3 have been doing rather well since the last time The Mag talked to them. They've released the critically acclaimed 'Reasons', been on the radio, played a load of shows and they've just been in the studio to record a new five-track EP. We caught up with the band at Blue Quay Bar in Southampton to find out more about their record.
The last time I spoke to you, Tim was off around the world getting exotic diseases – what happened?
Tim: Hook worm was the most terrible thing I've ever had. I didn't know what it was and I lived with it for three weeks. It's like prickly-heat, but a hundred times worse and with two-inch welts. I also got pancreatitis and I'm not allowed to drink properly now. I remember lying in hospital thinking "Jon drinks as much as me, why hasn't he got it?"

Jon: It's a rum-drinkers disease.

Jimmy: We get all the diseases that old men get!
Where did you record the new songs?
Ian: We recorded the guitars in a big house where we could keep going really late and make a lot of noise. We went to Sound on Sound in North Baddesley for the vocals and the rest is a home recording. We wanted to take control, it was a bit of a risk but it's come out very well.

Tim: It was our first attempt and it's gone really well. We got all the basics down and then took it into the studio to add some parts, like the vocals. Then we added more to it after that.

Ian: There was a lot of experimentation to get the sound right. A lot of the overdubs were recorded really quietly to get a really clean sound and the rhythm guitars were recorded in a cupboard under the stairs.

Ian: If people who like our previous music like the way it sounds we'll be really happy.

Tim: I think it stands up against stuff we've spent thousands of pounds on and it's better on the pocket. It's the best set of songs we've recorded. They're a bit different to what we've done before but they still have all of the elements people know us for.

Ian: We're using technology to our advantage. We have an eight-track that we're confident with so we can record a lot on that and then dump it onto a computer. We mixed it all on a Mac, it's probably quite a crude way to do it, but if it sounds good then it works.
What made you head down the DIY route?
Ian: We were in Mexico and we realised that we needed to keep going for a reason. Our view of success has changed; we were aiming for the sky and now it's more the window-ledge. We want to get enough money to keep doing the next thing and be a year-round gigging band. We still believe that if enough people hear our stuff we'll make great strides. We've done the music bit well, but not the business side. Jimmy is really helping us with that.
Where did the songs come from?
Ian: The five songs on the EP were written by all of us as a band. I was going through the song writing credits and they are all collaborations with different people making major contributions.

Tim: It is truly a team effort when we write. Previously, Ian would write the songs and we would just play them. This time we've all had much more involvement.

Jimmy: It's really personal, although it's still open for interpretation.

Tim: There's much more meaning in the songs. It's varied and interesting, but there's always a melody in there.

Ian: We tried to put it together as a listening experience. We've put out records before that have been a collection of songs, but there are lots of links between the songs and also in the artwork, so it flows. We wanted to make a statement with the music, the artwork and the title. We've got some really epic stuff as well as a song that sounds like Motorhead crossed with Therapy?
Do you ever give up on a song, or do you make them all work?
Jon: My rock opera never made it.

Jimmy: We tend to keep the good bits of songs that aren't working and we put them into other songs.

Ian: You can change bits to make them work elsewhere. If something doesn't feel right, we let it go.

Tim: When it's not working, you know it. You know early on whether something is going to be used.

Ian: We don't want it to be too easy, we want to push ourselves. We still want it to be hooky, but we want to push the envelope and do something different. It's important for us to come up with songs that are different, but still sound like us.
What do you write about?
Ian: When we formed Idiot3 we wanted to move away from \"I'm a rock bastard and I want to do you all night\". We wanted it all to mean something real so now it's all very personal stuff based on our experiences. You want people to connect with the lyrics, although that's harder in a live environment.

Tim: I remember singing about drugs and I felt quite awkward singing about it. It was so personal to me and because I knew people in the audience it was really hard.

Ian: You wear your heart on your sleeve and you do sometimes worry when there's a lot of people out there that know you!

Jimmy: Maybe they get sick of hearing all our problems!

Ian: Although there are some heavy subjects, the songs are light on the ears. There's no shoe-gazing, even with songs like 'Monster'.
The Monster and the Grey Goose is an unusual title. Where did that come from?
Jon: The record is a twenty-five minute experience; a nice little package. We wanted a grand title for it. "Grey Goose" means a lot to us and the "Monster" is a good thing, as in Eric Hall's "monster monster"!

Jimmy: As in "massive".

Tim: And hopefully people will be interested in the title, in could mean anything so it's there to spark people's imagination.

Ian: We like there to be a bit of fun as well as those epic moments where we go for it with the keyboards. People can put their own interpretation on things.
How are you going to promote the EP?
Jimmy: Gigs, gigs, gigs! We were going to play as many as possible.

Ian: It's all about gigging. We have some great contacts for shows and also for reviews. We'll also send a copy to Ginger, who's over in New York, to see what he thinks.

Jon: We'll also try sleeping with people.

Tim: Yeah, we'll suck our way to the top.

Ian: If anyone is interested, and can offer us a show.

Jimmy: We're going to tour in October to promote the record. It will be available on our website but the best place to get it is to come and see us play live.
You're releasing the record at The Mag Awards in Southampton on the 19th – what made you choose this show?
Ian: We were originally booked to play a show to launch the EP in June, but it was double booked. We looked at the gigs we had coming up and we were really looking forward to the show on the 19th.

Tim: It's a local show at a good venue that always has good sound and it's on a Saturday night.

Jimmy: We're playing an acoustic show at Borders in Southampton before the awards show. They're going to start selling music by local bands and we wanted to support that.
What's next for Idiot3?
Tim: We're more confident with things now. We can concentrate on getting it out there. We want to keep the new stuff flowing.

Ian: Some people told us we weren't getting new songs out quick enough so we want to improve that. If people like the way this record sounds, we'll hopefully get more out in six to eight months.

Jimmy: We'll be aiming for the end of the year as we want to play lots of gigs before then. Once we've sold all of these EPs we'll be able to afford to do another.
Written by Fenton on
Steve Fenton writes in our music, words, and culture categories. He was Editor in Chief for The Mag and covered live music for DV8 Magazine and Spill Magazine. He was often found in venues throughout the UK alongside ace-photographer, Mark Holloway. Steve is also a
technical writer and programmer
and writes
gothic fiction
. Steve studied Psychology at OSC, and Anarchy in the UK: A History of Punk from 1976-1978 at the University of Reading.
Discover More Music