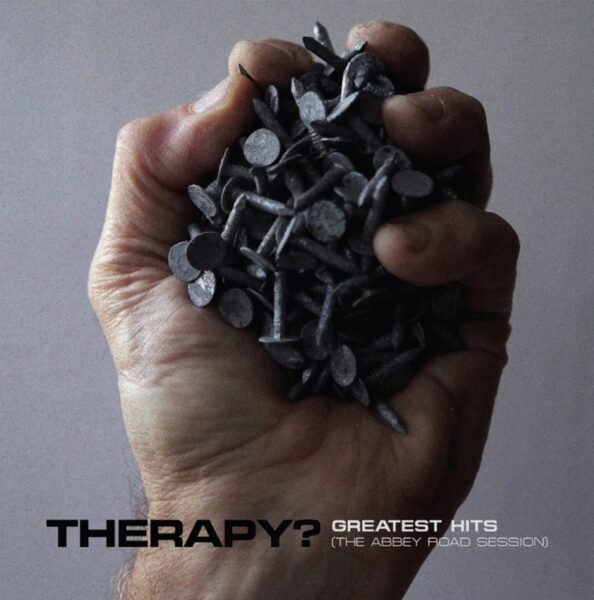 Therapy?
Greatest Hits LP
After thirty-years of making music, Therapy? decided to celebrate by hitting Abbey Road to record live versions of their twelve biggest charting songs.
The track listing contains all the names you'd expect: 'Teethgrinder', 'Screamager', 'Opal Mantra', 'Turn', 'Nowhere', 'Trigger Inside', 'Die Laughing', 'Stories', 'Loose', 'Diane', 'Church of Noise', and 'Lonely, Cryin' Only'…. but the thought of capturing the live majesty of these tracks is enough to set the skin to goose-bumps.
The quality and warmth of the recording is superb, Cairn's vocal cuts through the mix to deliver the angsty lyrics. The bass and drums are super-locked, driving forcefully in true power-trio fashion.
The songs take you on a tour of the Therapy? variations through the years. From the unhitched insanity of 'Teethgrinder' to the rock and roll vibe of 'Going Nowhere'; all burned with liberating darkness in the tone and downright poetry in the lyrics.
The rock version of 'Diane' is a surprise turn, with a blistering solo and haunting break that keep the atmospherics of the 'Infernal Love' version despite the immense changes and jumping chorus. This is a full circle for the song, which started out as a full-band track with Hüsker Dü before the haunting cello version that was created when Martin McCarrick was in the band. This version is worthy of all that history.
There are a few extras on offer with this record. Firstly, James Dean Bradfield adds both guitar and vocals to 'Die Laughing'. Secondly, McKeegan has hand picked fifteen tracks, one from each album, from an archive of live recordings the band have amassed from around the planet, which will be exclusively available in the CD bundle.
To celebrate the release, we dug into our archives too, and have posted reviews and interviews with Therapy that we rescued from our dusty filing cabinet.
The album will be available in a host of formats, including vinyl and double CD (only the CD has the official bootleg).
Written by Fenton on
Steve Fenton writes in our music, words, and culture categories. He was Editor in Chief for The Mag and covered live music for DV8 Magazine and Spill Magazine. He was often found in venues throughout the UK alongside ace-photographer, Mark Holloway. Steve is also a
technical writer and programmer
and writes
gothic fiction
. Steve studied Psychology at OSC, and Anarchy in the UK: A History of Punk from 1976-1978 at the University of Reading.
Discover More Music