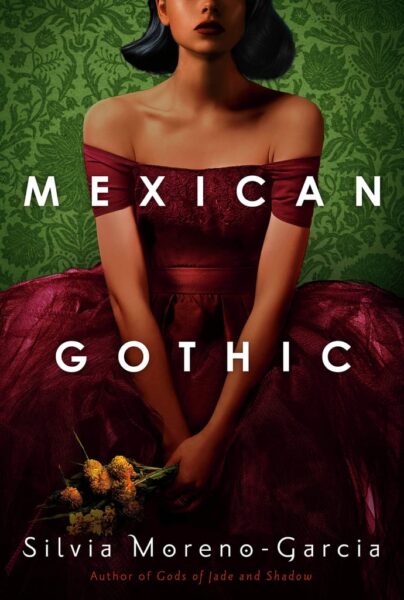 Silvia Moreno-Garcia
Mexican Gothic
After introducing us to Noemí Taboada in her natural mid-century socialite habitat, Silvia Moreno-Garcia transports us to High Place, the perfect setting for a Gothic Novel. A faded mansion, a cemetery, and an abandoned mine are all placed tantalisingly close to a small town, but in intense isolation from the locals both geographically and culturally.
Sent by her father to check on her cousin, the story descends from the glitter of Noemí's normal life through layers of increasing darkness as Noemí starts to discover more uncomfortable truths about the Doyle family history. The situation grows more intense and the horror elements more frequent as the story develops.
The smart thing about this book it effortlessly switches modes from creepy, to repellent, to psychological, and back. One minute it's the claustrophobia of the controlling family, then it's the repulsive touch of the eugenicist patriarch, then it's the bleak aspect of the property and its mist-shrouded surroundings.
Besides the plot, Noemí is a fully three-dimensional character who is strong and wilful, but who also doubts her actions in ways that are highly authentic. As things appear to become more supernatural, the authenticity of Noemí keeps you immersed in the story.
The book has a highly satisfying succession of events at the end, with lots of seemingly unrelated pieces tangling together to provide a coherent history that explains how we arrived at this destination. It is sometimes necessary to forcefully suspend your disbelief at the end of novels in this genre, but Moreno-Garcia has taken great care with all the details.
Mexican Gothic is a splendid Gothic Novel that evokes Uncle Silas, with sparkles of Udolpho, and even the tiniest flickers of Carmilla. The writing is wonderful and the characters solid and convincing.
Publisher's Synopsis
After receiving a frantic letter from her newly-wed cousin begging for someone to save her from a mysterious doom, Noemí Taboada heads to High Place, a distant house in the Mexican countryside. She's not sure what she will find — her cousin's husband, a handsome Englishman, is a stranger, and Noemí knows little about the region. The house itself begins to invade Noemi's dreams with visions of blood and doom and her only ally in this inhospitable abode is the family's youngest son. Noemí unearths stories of violence and madness. Mesmerized by the terrifying yet seductive world of High Place, Noemí may soon find it impossible to ever leave this enigmatic house behind. (Synopsis)
Silvia Moreno-Garcia Articles
Written by Fenton on
Steve Fenton writes in our music, words, and culture categories. He was Editor in Chief for The Mag and covered live music for DV8 Magazine and Spill Magazine. He was often found in venues throughout the UK alongside ace-photographer, Mark Holloway. Steve is also a
technical writer and programmer
and writes
gothic fiction
. Steve studied Psychology at OSC, and Anarchy in the UK: A History of Punk from 1976-1978 at the University of Reading.
Discover More Words