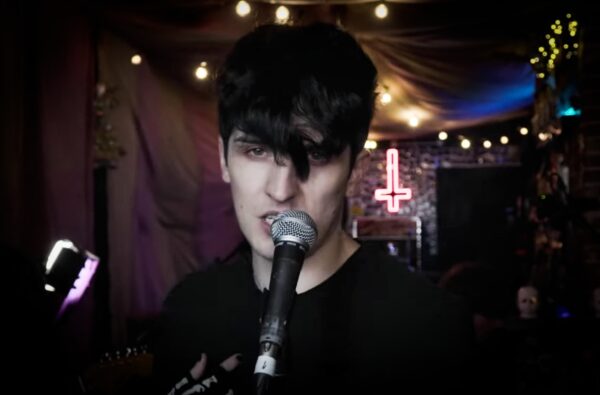 Salem
Live
For those in lockdown who are currently experiencing March 276th 2020, the painful withdrawals for live music are behind us and we are now firmly into the numb lifelessness of live-less music. However, Kerrang have saved the day with their K! Pit live sessions and this performance from Salem felt like the real thing.
Their set featured a blistering list of songs both (relatively) old and new, all set within the unique confines of Blondies Bar, London. The songs from their recent EP sound great live, but with a host of as-yet-unreleased tracks in their set, it's just a bit stunning that we almost didn't get to hear this band – who birthed out of the disappointing enforced gap in Creeper's touring schedule.
So, the Lord giveth and the Lord taketh away as Job might say in chapter one of his contribution to the big leather book. However, as Salem are about to belt out a sack full of satanic punk love-threnodies we'd best move on with haste.
It all begins with 'Fall Out of Love', which is a perfect ease-in for anyone who doesn't know who this band is. Before long the drums are rattling out a swift beat and the band are in full swing. There's a moment just as the chorus arrives where I wonder if Will Gould can really belt out that line just as heard on the EP, but he nails it and that's the last time I doubt the ability of the band.
They follow up on the strong start with 'Doomed (For Each Other)' and I'm now absorbed into the screen and maybe, just maybe, it's starting to feel a bit like a proper gig. It's a blast through 'All Alone', a powerful emotional song. It has a chorus that's like a heavy stick beating your heart out of your chest. This flows neatly into 'See You in Hell' which stamps all over your already expelled fleshy pumper with its huge middle section.
The huge sing-along of 'That's Alright' is a song I long to have committed to record. It has a cheeky palm-muted startup to its chorus, which explodes satisfyingly into anthemic proportions. This leads into ace EP tracks 'Eyesore', and 'Throat', which by now we all know and adore.
Closing out the thirty minutes of brilliance is a self-confessed unrehearsed rendition of 'Way Too Late', which is a late addition to the set. Squeezed in just before the final hurrah of 'Destroy Me', it sparkles with choppy rhythms and a chorus that smoulders with signature Salem sound.
Gould's immersive performance and relentless eye contact pull you into this performance. You might not be able to get out to see bands playing at your local music venue just yet, but let's take whatever we can get while we await the re-opening of the doors that lead to the sticky floors. The K! Pit has kept us in the game with this great performance from Salem.
Watch Salem – Live in the K! Pit
Disclaimer. To capture the true feeling of reviewing a live gig I've just jotted fleeting lyrical references onto a notepad and assumed that these are song titles. That usually means the titles are off a bit, but that's the beauty of live shows, right?!
Written by Fenton on
Steve Fenton writes in our music, words, and culture categories. He was Editor in Chief for The Mag and covered live music for DV8 Magazine and Spill Magazine. He was often found in venues throughout the UK alongside ace-photographer, Mark Holloway. Steve is also a
technical writer and programmer
and writes
gothic fiction
. Steve studied Psychology at OSC, and Anarchy in the UK: A History of Punk from 1976-1978 at the University of Reading.
Discover More Music