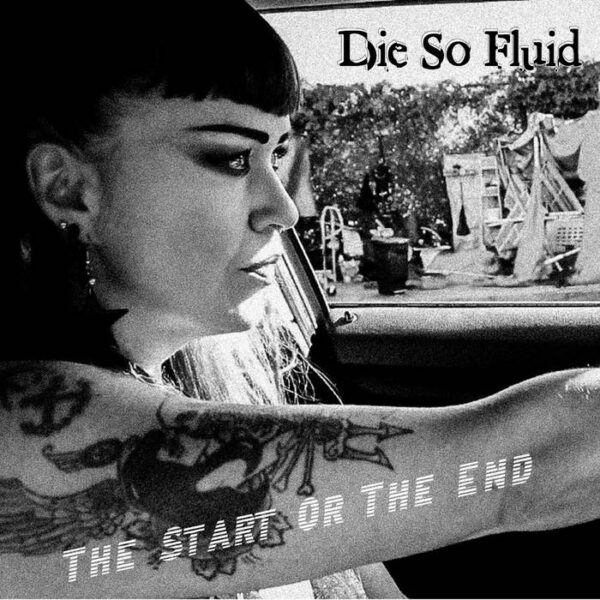 Die So Fluid
The Start Or The End
Notification. Click. Boom. Die So Fluid burst back into our lives with a song that incorporates dark twisty verses filled with atmosphere and a stomping big anthem of a chorus. It's like the Die So Fluid we all know and love. But, it's also breaking new ground in a massive way.
So, what's familiar. Well, there's guitar and bass that you could probably win a round of "name that tune" with. That's definitely recognisable. The vocal isn't going to be mistaken any time soon. It's got some darkness in there that is unmistakable. Yes… it's definitely the band we know and love. However, I'd like to talk a bit more about the new stuff.
After the dusk tones of crickets, we get a drum beat accompanied by massive low piano notes that are joined later by a string section and neat guitar licks. The vocal keeps it smoky as it builds up to version one of the chorus, which has two distinct movements, which we'll label as stirring, followed by soaring. We skip into a meadowlike musical interlude that floats towards version two of the chorus. Massive. Stunning.
Lyrically, this is a pretty deep and emotional song. If you really listen to the words, it's going to give you tingles. The band has also provided a practical side to their message by linking out to World Food Kitchen, "whose mission is to use the power of food to nourish communities and strengthen economies through times of crisis and beyond".
There's an element of dark pop mingled into this record, not just in the ringing thick piano strings, or the huge tones – but in the unconventional construction. This is already a top-three DSF anthem and I won't decide on the final position until it has spun a goodly many more times.
Watch Die So Fluid – The Start Or The End
Written by Fenton on
Steve Fenton writes in our music, words, and culture categories. He was Editor in Chief for The Mag and covered live music for DV8 Magazine and Spill Magazine. He was often found in venues throughout the UK alongside ace-photographer, Mark Holloway. Steve is also a
technical writer and programmer
and writes
gothic fiction
. Steve studied Psychology at OSC, and Anarchy in the UK: A History of Punk from 1976-1978 at the University of Reading.
Discover More Music