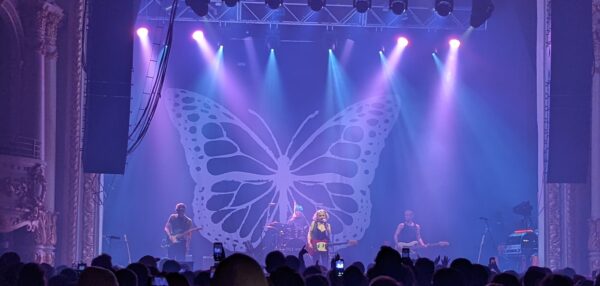 Pale Waves
Live (Bitters / Beaux)
With Hot Milk benched on doctor's orders, the warm-up was tasked to the very capable Los Angeles band, Bitters. They gave us a short but slick collection of mainly mid-paced alt-pop rockers with really great sonic moments.
Their stand-out track was the excellent 'Stole Your Car', which really popped on Bournemouth's O2 Academy stage, with its grand theatre grandeur. This track has a great beat and the neatly composed verse gives us a momentary pause before the short and melodic chorus. This band has put in the sweat to create a really high-quality live sound and it paid off as they caught the crowd's attention with this performance.
With a fresh art-indie-pop sound, Beaux (Smith) flickered with Sheeran, Foals, and even Prefab Sprout according to a brief exchange between a punter and one of the tech crew. Their power-trio lineup was complemented with backing audio that delivered most of the hooks, but damn was it catchy. Their humble on-stage style was a surprise given that this crowd was utterly besotted by this band. If you've heard their records, I believe it is fair to say the live performances had vastly more energy and personality than can be injected into digital soundwaves.
Pale Waves veritably exploded onto the stage with lighting that was brilliantly designed to lift the big musical moments. The set was packed with hits, as you might expect, but in particular, the songs from the second album took on a new life as they burst out of the stage and into a room full of people.
We were treated to the unreleased and riffy 'Jealousy', which was the first hint of what might be coming next. The song had flickers of Offspring in the verse, but with a big anthemic rock chorus. Baron-Gracie's vocal in this track, like all of the others, was powerful and melodic. Her signature deliberate vocal breaks projected well and her voice cut through the room excellently.
Their rendition of 'Television Romance' was absolutely knock-out, a huge moment in a huge set. You have to go and see this band live to understand how good they are.
Written by Fenton on
Steve Fenton writes in our music, words, and culture categories. He was Editor in Chief for The Mag and covered live music for DV8 Magazine and Spill Magazine. He was often found in venues throughout the UK alongside ace-photographer, Mark Holloway. Steve is also a
technical writer and programmer
and writes
gothic fiction
. Steve studied Psychology at OSC, and Anarchy in the UK: A History of Punk from 1976-1978 at the University of Reading.
Discover More Music