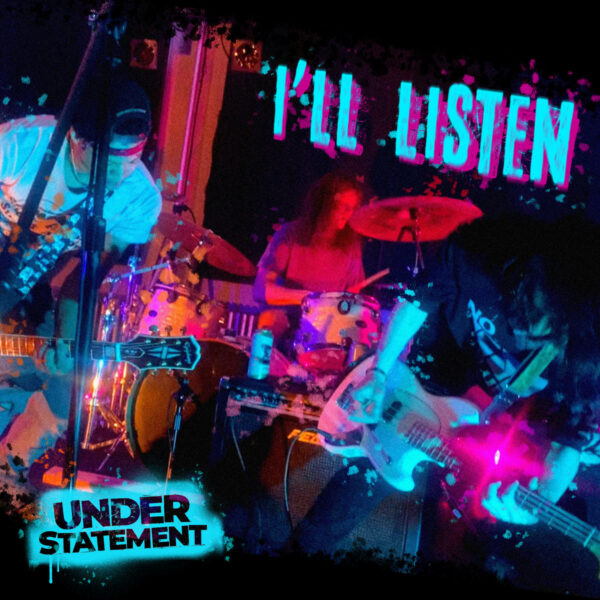 Understatement
I'll Listen
With an intro that harks to the very roots of Never Mind The Bollocks, Understatement merge classic and modern punk to create a stomping Sex Pistols meets Greenday single, 'I'll Listen'.
This is the second track lifted from their forthcoming album, Get Away With Murder, and it has only made me want to get my hands on it more. Sully Dunn's vocal is a great anchor for the sound, loose and melodic with more than a hint of Billie Joe Armstrong. The punk revival influences don't end there, with a tight and punchy power-trio format and songwriting that packs in plenty of hooks in the 166 seconds of this track.
What makes this a little different is the older references. There's something in the guitars that is unmistakably influenced by Steve Jones style and Glen Matlock is certainly responsible for influencing that bam-bam-bam-bam-bam-bam-bam seven-chord entrance.
This is an energetic single that has inspired me to break into Understatement HQ in an effort to obtain the album early. If I can just wait until 15th April, I can avoid get my collar felt; but if I can't resist then at least I'll have a great record for my prison cell. Pre-order on Bandcamp if you'd rather not take the risk yourselves.
Watch Understatement – I'll Listen
Written by Fenton on
Steve Fenton writes in our music, words, and culture categories. He was Editor in Chief for The Mag and covered live music for DV8 Magazine and Spill Magazine. He was often found in venues throughout the UK alongside ace-photographer, Mark Holloway. Steve is also a
technical writer and programmer
and writes
gothic fiction
. Steve studied Psychology at OSC, and Anarchy in the UK: A History of Punk from 1976-1978 at the University of Reading.
Discover More Music