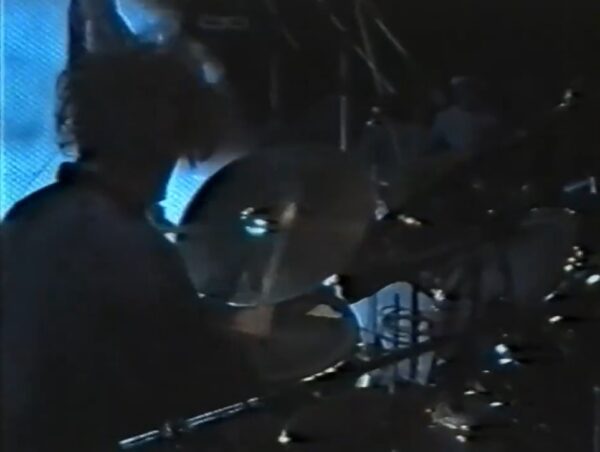 Brussel Spaceship
Fluorescent Hat Live
As part of our attic finds series, we've been given unique access to previously unreleased material from one featured band, Brussel Spaceship. The band was active from 1986-1992 and recorded eight records.
Their live shows were stacked, and the band was able to fill venues and draw crowds when they played at festivals. The footage we've obtained is a live performance of 'Fluorescent Hat' at YES! 1991. The lineup at the time featured Ian Stewart on guitar and vocals, Mike Randon on drums and vocals, and Les Driscoll on bass. The song comes from their long player, Slowdown.
The first thing that strikes you on the record is the signature guitar sound, a hook line with a delay effect that washes you with pleasant vibes every time it cuts back in. After the intro, the metronomic flurry of drums arrives, with a beat in the chorus that's positively mind-blowing. The bass line in this song starts off with a neat counter to that guitar riff before slipping into a smart backbone of rhythmic interest with emotive line-ending runs.
The song has some variations to the version laid down for their Slowdown album, some lyrical differences and adjustments to the timing of the bridge will be noticed by fans, but that doesn't diminish how amazing this live rendition is.
The cameraman's on-stage perspective puts us in amongst the action, and while some of the video effects have dated, the song hasn't. It's a fresh and melodic indie/rock alt-pop diamond that we're delighted to have dug up.
Watch Brussel Spaceship – Fluorescent Hat Live
Written by Fenton on
Steve Fenton writes in our music, words, and culture categories. He was Editor in Chief for The Mag and covered live music for DV8 Magazine and Spill Magazine. He was often found in venues throughout the UK alongside ace-photographer, Mark Holloway. Steve is also a
technical writer and programmer
and writes
gothic fiction
. Steve studied Psychology at OSC, and Anarchy in the UK: A History of Punk from 1976-1978 at the University of Reading.
Discover More Music