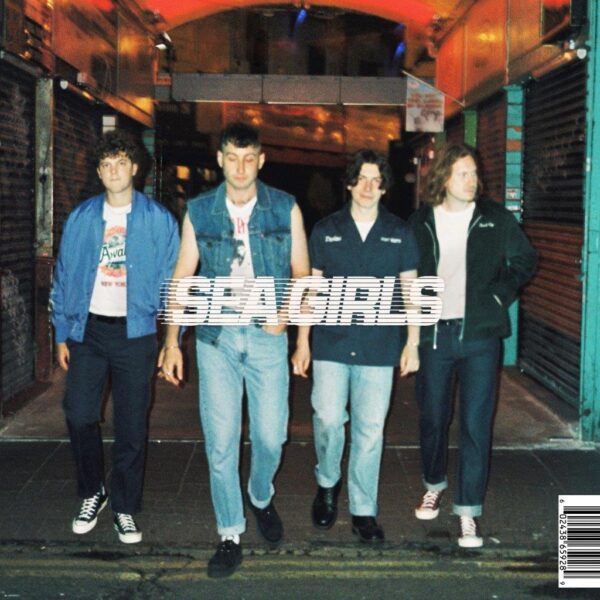 Sea Girls
Homesick LP
Homesick is the second long-player from Sea Girls. Like many recent albums, it was shaped by the lock-down. Based in London, the band found themselves in their old hometowns thinking about mortality and re-living old memories. The song was written and recorded remotely, with tracks being transferred from the UK to America and back during the recording process.
The result is that we have some really great songs, though the album as a whole skips around a bit.
'Hometown' is a ready-made sing-along anthem with those line-ending 'always' call-outs guaranteed to have fans screaming their heads off. It's a teen romance with chemical edges, an indie-rock take on emo. It starts as a marriage of U2 and Captain before emerging into something more akin to The Vaccines with Tim Booth belting out the vocals.
The most successful songs are the more energetic songs, 'Again Again', 'Higher', and 'Homesick' – and the intricate tracks like 'Sick' and 'Cute Guys'. The lyrics are charmingly direct, which is likely to make the songs accessible to teenage fans who will be most directly experiencing the themes of the record.
Songs like 'DNA' and 'Lucky' are strong tracks, but definitely disconnect from the other material in recorded form. It will be interesting to see how it melts together in a live show where the production differences won't be present.
A Mix of Sounds
The album mixes a few of these big anthems with a selection of sultry beat-driven tracks, some subdued sparklers, and some songs that step at least one foot into folk-pop territory. Alongside the previous references, there are elements of The 1975, Mumford and Sons, James, The Killers, and Bloc Party. These all emerge in flickers rather than tributes.
As a complete playlist, the album is musically jagged (more like what you expect from a career-spanning compilation), bumping through different sounds and styles. They survive this primarily because everything is anchored by Henry Camamile's vocal.
As a soundtrack to confused heartache, this record definitely delivers the chills.
Where Sea Girls Got Their Name
Let's clear up the band name from the start, as people seem to be confused at the general lack of female shipmates in this all-chap line-up. The name comes from 'Water's Edge' by Nick Cave, which reads like a chapter of John Cleland's Fanny Hill (Memoirs of a Woman of Pleasure):
They take apart their bodies like toys for the local boys
Because they're always there at the edge of the water
They come from the capitol these city girls
The eagle-eyed among you will have spotted that the line ends "city girls", but if you look at the general context of the song you can understand how guitarist Rory Young misheard that as "sea girls". And if the first verse doesn't seem Fanny Hill enough for you, just bear in mind that later verses have more colourful ways of putting things.
Their legs wide to the world like Bibles open
To be speared and taken their bodies apart like toys
We often see bands named after films, albums, and novels, so a band named after lyrics isn't terribly unusual… except they aren't really named after the lyrics.
Written by Fenton on
Steve Fenton writes in our music, words, and culture categories. He was Editor in Chief for The Mag and covered live music for DV8 Magazine and Spill Magazine. He was often found in venues throughout the UK alongside ace-photographer, Mark Holloway. Steve is also a
technical writer and programmer
and writes
gothic fiction
. Steve studied Psychology at OSC, and Anarchy in the UK: A History of Punk from 1976-1978 at the University of Reading.
Discover More Music