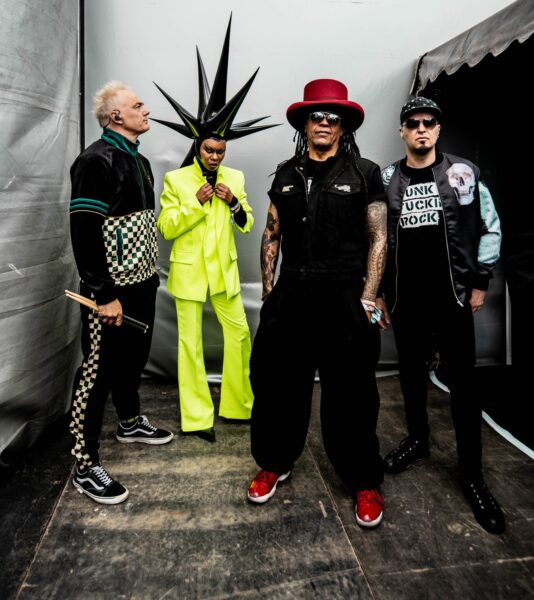 Skunk Anansie
Live at Glastonbury
Skunk Anansie are one of those bands that surprise you every time you hear them live. Yes, they really can knock it out of the park, even in the open air, on a big stage, and in front of a massive crowd.
It's hard to think of a better opener to a blistering performance in 2022 than 'Yes It's Fucking Political'. The song punched out with stomp with Skin sporting a fluorescent suit with "CLIT ROCK" emblazoned across her back and a massive spiky black PVC punk headdress. Strong look. Strong song. Strong start.
The set mostly delivered Paranoid and Sunburnt and Stoosh tracks, with just a quick dive into their others albums. For a festival set, this was a good choice as it not only pleased fans, but solidly demonstrated to the rest of the crowd why they exploded in the 90s. A part of me thought it was brave to stick 'Weak' and 'Twisted' so early in the set, but they proved me wrong when the latter section delivered 'Intellectualise My Blackness' and 'Charlie Big Potato'. That's why they're on the stage and not me.
Their five-piece touring line up meant lots of neat harmonies and vocal interplays, which actually helped to bring some of the studio experience of songs to the live stage.
Newer tracks 'Can't Take You Anywhere' and 'Piggy' got a showcase. The latter coming across particularly well live. When Skin announced 'Piggy', there was a moment where I though we were about to be told a new album is coming, but – alas – no news yet on that front.
For some reason, I always kinda hope for a rendition of 'Punk By Numbers', but it never happens (it was a b-side after all). I'm sure each Skunk Anansie fan could have listed a song they hoped to hear… that's what happens when a band has a goodly chunk of classics.
Skunk Anansie still smash it out with energy and I really do hope a new record is coming.
Watch Skunk Anansie – Hedonism (Live).
Setlist
Here's the setlist from Skunk Anansie's smashing Glastonbury 2022 performance.
Yes It's Fucking Political
I Can Dream
Because of You
Weak
Twisted (Everyday Hurts)
My Ugly Boy
Hedonism (Just Because You Feel Good)
Intellectualise My Blackness
Tear the Place Up
Charlie Big Potato
Picture from Skunk Anansie, Twitter.
Discover More Music