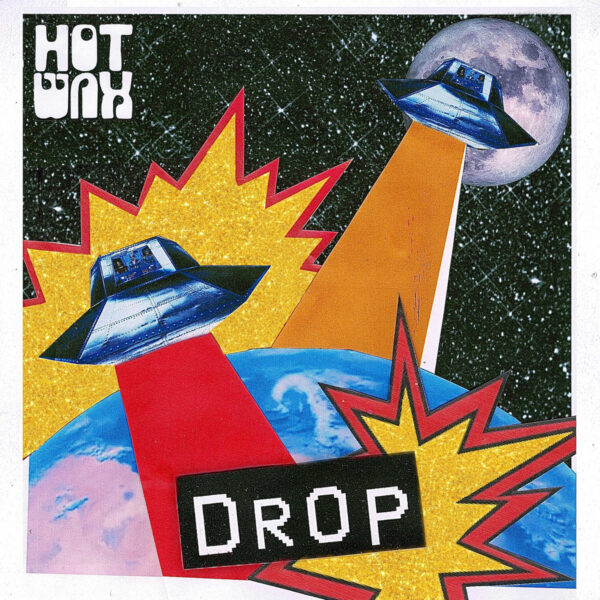 HotWax
Drop
With an intro that nods to the 'Peter Gunn Theme' from Blues Brothers, HotWax soon ratchet things into a noisy punk crescendo. 'Drop' is a song of notches, and they all go up.
The first verse is crunchy, entertaining a Britpop possibility that is trampled underfoot when the chorus arrives. It all drops back for the next verse, which introduces cowbell and bursts into an even fuzzier second chorus.
The middle eight is riffy and thick, evolving into a chorus-sized rendition of the second verse and sliding straight through a third chorus. It's energetic and brilliant.
The video wraps the lyrics in an alien-invasion story, which spins on the chorus ending: 'Is that what humans do?' When the video is over, the song continues swinging in your brain – and will do so for some time!
Drop Lyrics
I know this sounds like a lame excuse
I like the way it makes me feel
I don't care about myself no more
I'll, I'll take the abuse

'Coz ur angry then ur not
Then I feel the tension drop
Then I'll have it all for you
Yeah is that what humans do

You've got it swinging in my brain
Will this ever be the same
I wish, I wish we both knew
Have I, have I fucked it up for you

'Coz ur angry then ur not
Then I feel the tension drop
Then I'll have it all for you
Yeah is that what humans do

You've got it swinging in my brain
Will it ever be the same
Yeah I wish we both knew
Have I fucked it up for you

'Coz ur angry then ur not
Then I feel the tension drop
Then I'll have it all for you
Yeah is that what humans do
Discover More Music