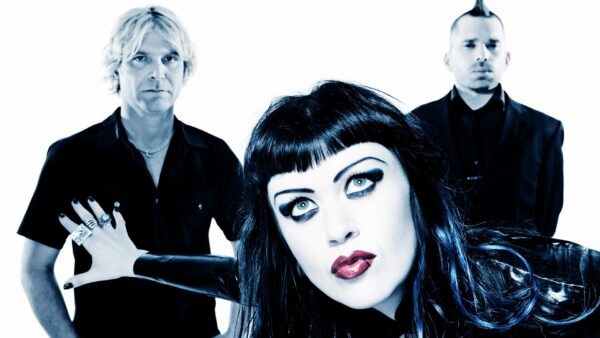 Die So Fluid
Live (Big Richie / Dali's Cat)
Having found a parking space satisfyingly close the the venue and happily not on one of the surrounding hills ( my brake cable has it's limits) I arrived at The Railway Inn to a scene awash with viral infections.
The first victim of this winter-onslaught was Madisun's guitar-man, Tim, who was unable to perform due to a nasty flu-mutation. In true British spirit, drummer Richie stepped up to play an acoustic solo set (on guitar, in case there is any confusion here).
With plenty of witty comments on hand to get the audience on his side, Richie was clearly no stranger to the singing duties, distributing a handful of classy melodies and the odd powerful chorus in his brief set.
As if it wasn't enough to ask the drummer to become a guitar player and singer for the night, the slightly percussive picking technique took its toll on the guitar in a dramatic string failure and, being a drummer, Richie had no idea how to replace it.
Despite the lack of longevity and the lack of two band members, there was enough in the performance-ette to make you want to see an entire Madisuns gig.
The second band of the night were gay-demon obsessed five piece, Dali's Cat. I am a true believer that plasters are best ripped off as quickly as possible, so to be blunt this band needs work. The music was ropey at best and the songs did have the sound of five people with very different ideas about what's going on. The overall effect of this was scene akin to a Britpop version of The Buzzcocks, with a club or lounge singer.
Now, things aren't totally beyond help. The vocal was certainly good enough and the strange blend of influences could turn into a real bonus if this band could tighten up the delivery – a sudden break to this band involved five people realising at different times that they were supposed to be playing the 'funky bit after the chorus'.
The only track worthy of mention was the eighties rock anthem 'What's Wrong With us', being a moment of respite in an otherwise testing performance.
With the room threatening to crumble beneath the immense bass tones and with similar problems manifesting themselves in both in my bladder and large intestine, Die So Fluid stormed through their set with almost no regard for the second infection of the night, which had attached itself to singer Grog's throat. However, the only evidence of this infection was the croaky between-song chat.
With a sound that seems too big for a three piece, Die So Fluid presented accomplished renditions of some old favourites and even managed to slip a few new tracks into their set to let us know they're still hard at work writing new material.
One of the many highlights of their performance was the choir-like vocals in 'Draw a Line and Cross It' and both 'Bitterness by Discipline' and 'Brainwash' were blistering.
If you still haven't cottoned on, this is a band you must see.
Written by Fenton on
Steve Fenton writes in our music, words, and culture categories. He was Editor in Chief for The Mag and covered live music for DV8 Magazine and Spill Magazine. He was often found in venues throughout the UK alongside ace-photographer, Mark Holloway. Steve is also a
technical writer and programmer
and writes
gothic fiction
. Steve studied Psychology at OSC, and Anarchy in the UK: A History of Punk from 1976-1978 at the University of Reading.
Discover More Music