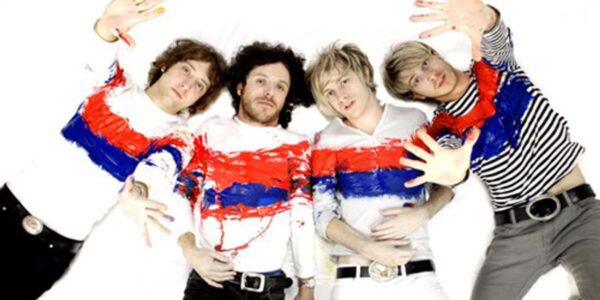 Delays
Live (Dead!Dead!Dead! / The Maccabees)
With the stage decked out in tinsel, the new record deal with Fiction signed and sealed and the challenging interview all in the bag, it was time to get down to the business of entertaining a capacity crowd at Southampton's Guildhall.
I have no shame in saying that Dead!Dead!Dead! are the most exciting unsigned band in the UK right now and they opened proceedings with their angular experimentalism. Despite the risky side of this band, which constantly explores new sonic territory, every single song in their set was completely brilliant.
In all likelihood, any other collection of musicians would fail to pull off this style. It takes the tightest possible co-ordination to make things work and it's probably this very factor that makes Dead!Dead!Dead! so special.
'George Lassoes the Moon' is an obviously stand-out track, although the incredible rhythm to 'Slide' was a jaw-dropping moment of excellence. What a great great great band.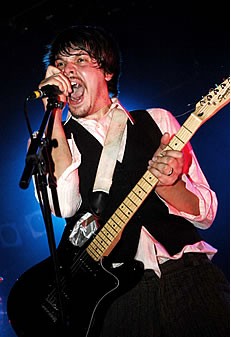 The Maccabees (as of today, label-mates to Delays) supplied a more conventional style of music, with songs that were part mod and part Brit-rock. Frantic 16-beats and running bass riffs led the way with a soft guitar sound popping along with sparkly moment aplenty.
Their relentless energy and youthful vigour allowed them to continue the pace throughout, although they did mix things up a bit with one or two tempo changes, which kept things interesting.
Elements of The Cure's early years crept into the sound, courtesy of the drums and bass, but things were definitely kept very indie throughout.
With two albums stuffed full of perfect pop songs, Delays had no trouble compiling a collection of songs to please the crowd, causing the 'elated moment of recognition' at the start of practically every song. In fact, the constant flow of great songs made the hour and a half set streak by in what felt like moments.
Faded Seaside Glamour provided an excellent scattering of euphoric harmonies with 'Wanderlust' and 'Nearer Than Heaven' as well as the stunning 'Long Time Coming' and You See Colours did equally well with the likes of 'You and Me', 'This Towns Religion', and 'Hideaway'.
The big ending was supplied by the throbbing tones of their last single, 'Valentine', which is a song that just grows and grows each time it gets played.
I don't think I would be sticking my neck out if I said Delays will be very big news throughout 2007.
Written by Fenton on
Steve Fenton writes in our music, words, and culture categories. He was Editor in Chief for The Mag and covered live music for DV8 Magazine and Spill Magazine. He was often found in venues throughout the UK alongside ace-photographer, Mark Holloway. Steve is also a
technical writer and programmer
and writes
gothic fiction
. Steve studied Psychology at OSC, and Anarchy in the UK: A History of Punk from 1976-1978 at the University of Reading.
Discover More Music