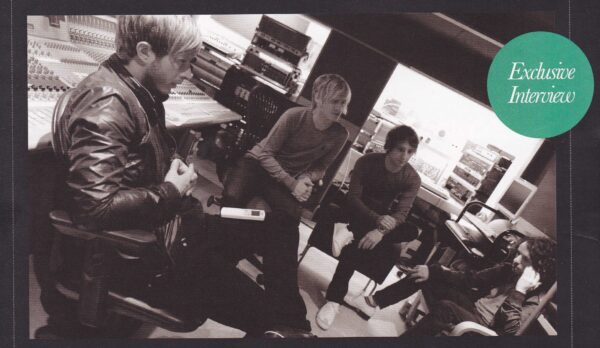 Delays
Interview
Since they signed a new record deal with Fiction in December, Delays have been hard at work writing and recording new material. We caught up with the band during a brief break as they were putting the final touches on their songs and found out about their plans for an EP release in October, followed by an album early in 2008.
After a sneaky listen to some of the new songs (which are absolutely awesome by the way) we found some comfy chairs in a small soundproof room for a bit of a chat.
How did you feel when you signed the deal with Fiction and played a massive hometown show on the same day?
Greg: It's days like that you fantasize about. I had to stop myself from running out on stage shouting 'guess what…'
Colin: It really felt like a send off. It was going to be our last appearance for a while and I think you could tell. It does feel like we've been away for a long time now.
What have you been doing since then?
Greg: We've been working on our new album and an EP. The EP will be released in October and is called 'Love Made Visible' the album is going to be called 'Everything's The Rush'. We had to loosen the whole thing up, like a Beatles record. We recorded a track a day. We started with pre-production in Southampton, but we recorded the record up a mountain.
Colin: The studio was in the middle of nowhere. There were just rocks and stones and it was really out of the way. I went for some long walks when I was there to really take in the scope of the area.
Aaron: I never really appreciated it until I got back, then realised how beautiful it all was.
Greg: We were working with Youth, he's into a lot of spiritual stuff. He wanted us all naked, jumping over fires.
Aaron: Me and Rowly did it too. To be stood on the side of a mountain naked… it's quite something.
Greg: He got us recording a whole song in a day and then made us jam afterwards.
Rowly: It was all about instinct and spontaneity and it really clicked for us. Nobody records like this anymore. There are even mistakes in there – but the record sounds better for it.
Greg: When we were talking about the record, the word 'psychedelia' was used a lot. We wanted spontaneity in the music. Youth threw in some chords and made us jam them. When our families came to visit us, he made me sit in a room and write lyrics for the song. The room was next to the pool and the stereotypical 'fun day' was taking place while I was shut in a little room.
What changes have you made to your sound?
Greg: Aaron is singing some lead vocal and writing lyrics on this record.
Aaron: You had your chance!
Colin: Me and Aaron had a competition and I lost, so he got to do it.
Greg: It was a cook off.
Colin: My omelette was just too dry! The change of vocal adds another dimension to the sound. We use the falsetto now for nice moments rather than as a blanket over a whole song.
Greg: We left Rough Trade last March and we've been writing lots of songs since then. We demo'd forty songs for in total for Fiction and we had to get down to just eighteen songs for the album and the EP.
Aaron: The label think there are eight songs that could be singles. They compared it to 'Thriller' in that respect.
Rowly: The new record is absolutely amazing and we want to get out and play the songs live. We just want to share it.
Greg: Elton John phoned up and asked to hear some of the new songs so we let him hear some. He's invited us to his house.
Rowly: And he's been recommending us to people!
So you've been stuck inside a lot recently?
Greg: We've been getting existential cabin fever! We hear about our mates gigging and we're stuck in a studio.
Colin: We read the press and we can see lots of bands coming through. We want to be an option. At the moment we're suffering from a lack of proper sunlight!
Greg: There's been a lot of nakedness in the studio!
Colin: You feel so detached; you end up making your own code of conduct.
Rowly: I really miss Southampton. I need to get back to some familiar sights, like the Racquet Centre in Swaythling!
Aaron: Listen to how quiet it is in this room. Leave a space here to represent how quiet it is.
Is being in a band like being married?
Rowly: A little, but the sex is better.
Aaron: You can do more – piss on each other and stuff. No one finds out.
Greg: We're like a family of travelling gypsies. We go from place to place playing music.
How is the mixing of the songs going?
Aaron: Cenzo paints the picture and we sign it!
Greg: All those buttons mean nothing. There's just one important one, volume! Actually, the mixing took longer than we thought it would.
Rowly: That's still a track a day though. The album is finished today – it's a new dawn.
Greg: It's quite a skill, mixing. It's hard to do well, so we entrust it to Cenzo. He's mixed most of the stuff that's out there at the moment.
Aaron: There's a part of you that never wants to give it away.
Rowly: You feel like a parent seeing their child going off to University. You've done all you can, you just have to let them go and do their best!
Greg: The songs will all get mastered now. We don't know how it works. There's a strange group of people that play it via speakers that look like those Christmas Island statues and a druid turns it into a record.
Rowly: The guy doing the mastering does look like a wizard.
Aaron: Actually, it takes everything at the top and at the bottom and if there's anything that's too far out, it just brings it back in.
Rowly: No wizards then?
Are you looking very far into the future?
Aaron: We're not really looking into the future. We're writing songs still, but we're not making any plans.
Colin: All of our attention is really on the album.
Greg: You always have ideas, but not really plans. Fiction really wants to do it properly. They want to build up momentum with the EP instead of just launching straight in with the album. We're looking to do an album tour early next year.
If you had a side-project, what would you call it?
Greg: I Digress
Aaron: Be-leave Me Alone
Colin: Back to Bass-Ics
Rowly: Long Time Drumming
What's it like hearing your songs on adverts?
Greg: It's conflicting!
Aaron: It is weird. People have been using our stuff a lot.
Greg: We had to turn down a political party who wanted to use one of our songs for their campaign.
Aaron: It's flattering to get the requests, but you have to be careful what you are associated with. Adverts are better now so it doesn't feel so bad. There's a lot of art in an advert and you get to hear your song against the imagery. It is a bit of a shame that something has to be sold at the end of it, but it can be good.
Greg: You even hear Iggy Pop on adverts now! It's good to be able to pay off some of the debt with the money too.
If anything is super clear by the end of the interview, it's that the band has gone utterly stir-crazy, so watch out when they burst out of the studio into the daylight. Based on what we heard coming out of the speakers, thought, the effort is entirely worthwhile and the new album is stunning.
Photograph by Mark Holloway.
Written by Fenton on
Steve Fenton writes in our music, words, and culture categories. He was Editor in Chief for The Mag and covered live music for DV8 Magazine and Spill Magazine. He was often found in venues throughout the UK alongside ace-photographer, Mark Holloway. Steve is also a
technical writer and programmer
and writes
gothic fiction
. Steve studied Psychology at OSC, and Anarchy in the UK: A History of Punk from 1976-1978 at the University of Reading.
Discover More Music