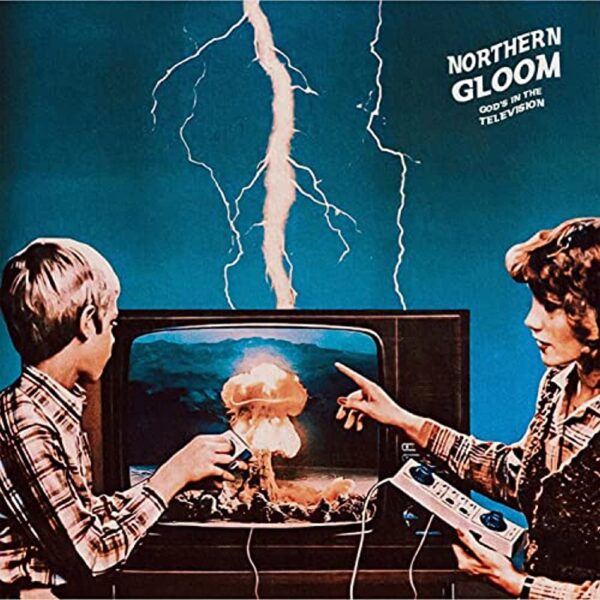 Northern Gloom
God is in the TV
Rarely does a song grab me after two bars of bass guitar, but the bass harmonic is a wake-up call that grabbed me with both hands and dragged me straight into Northern Gloom's 'God is in the TV'.
The bass is the steadying hand as the guitars soar over the top, conjuring a Banshees sound that I find perfectly brilliant. The sound references eighties sensibilities, not so much in tribute but in a rediscovery of a sonic style that we have, perhaps, lost to modern production.
The drums have a classic gate sound and perfectly underpin the song's mood. The bass pops with a trebly quality behind the deep notes and backbones the single with that great under-pinning riff. The guitars provide melodic single notes as well as chunky chords that refuse to follow the bass, somewhat in the style of Jon Klein. The vocal hits the mark melodically, with a great fry applied where the extra emotion increases the lyrical hit.
It's not a well of noise, it's a sophisticated form of simplicity. There's plenty going on, but it's all so interwoven that it doesn't compete.
Hastily checking out the back catalogue, there's more to find. There are more guitar-driven near-punk tracks such as 'Cancel Everyone', and 2021s Watch… There It Goes is a fantastic long-player. I'm glad, though, that I discovered Northern Gloom through 'God is in the TV', because it really hit the spot for me.
Watch Northern Gloom – God is in the TV
Northern Gloom Articles
Written by Fenton on
Steve Fenton writes in our music, words, and culture categories. He was Editor in Chief for The Mag and covered live music for DV8 Magazine and Spill Magazine. He was often found in venues throughout the UK alongside ace-photographer, Mark Holloway. Steve is also a
technical writer and programmer
and writes
gothic fiction
. Steve studied Psychology at OSC, and Anarchy in the UK: A History of Punk from 1976-1978 at the University of Reading.
Discover More Music