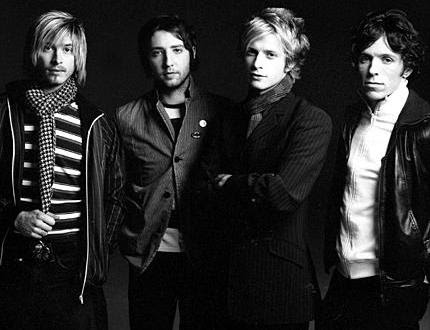 Delays
Interview with Greg Gilbert
Having sold every single ticket for their homecoming show at Southampton Guildhall, Delays had reason enough to be cheerful on Wednesday, especially since their last album, 'You See Colours' was released over 8 months ago. The demand for tickets wasn't the only good news though, as the Delays signed a new record deal with Fiction Records, home of Snow Patrol, a few hours before the gig.
We caught up with front-man Greg Gilbert shortly after the signing in order to delve a little deeper.
You've just signed the deal with Fiction, how are you feeling?
A little like my drink's been spiked! It's a strange mix of emotions. You do believe in yourself, but you sometimes have doubts. Selling out the Guildhall is a big deal to us, we've not had a record out in a while, but tonight's gig is going to be even more of a celebration now.
Were you worried about not having a record deal when you left Rough Trade?
You need to scare yourself sometimes, make yourself naked so you can concentrate on the music. I never doubted that things would work out – I knew we had the songs.
What will the new deal bring?
We've just handed over a load of demos to Fiction so we can start to prioritise them and see what's working. There won't be any more gigs for a while, just the record and working with a producer.

We learned a lot about recording an album when we made 'You See Colours' and we want a lot of songs to choose from. The songs are coming naturally really fast so we want more than 12 songs when we go into the studio.
Are you hoping to promote your next record more?
Music is self-perpetuating. If you get the right songs, you don't need to promote as much. None of us have been arrested; we just let the songs do the talking. 'Valentine' has taken on a life of its own; it's bigger now than it was when it was released. Our aim now is to make a third album that surpasses the previous two.
Would you still describe yourselves as a 'Fabulist' band?
I would! I still see it as fabulist; it's not the urban angular post-punk that's around at the moment. We've almost got one foot in psychedelia, one in shoe gazing and third foot in pop! Garth Marenghi originally came up with it and we like the colour and imagery.
Is that a Christmas tree on stage?
Yes! As if there isn't enough to be doing today, we have to oversee the decoration of the stage. I'm a Christmas nut, I'm mental about it. Our manager really lets go and he never wants to regret not doing stuff; I'm a bit like that. I like Slade and Morcombe and Wise Christmas Specials!

We did a warm up gig in Oxford to try out the set. It's really long, but tonight is the last gig in a while so it's a blowout. It's exciting to be able to play for so long; I can remember when we could only do 20 minutes.
Do you still get nervous?
I've got really into meditation and, although I'm still 'Gregative' at times, I don't try to squeeze a situation. If you believe in things, you can see that everything that happens is a natural step towards where you want to be. Today's deal validates that.

I'm still working out what's right for me though as I don't want to get too relaxed before I go on stage. I don't want to take it in my stride; it's an unnatural situation and I like to be able to let it all out.
There's a lot to look forward to! Delays have signed a record deal, there's a new album coming at some point hopefully soon, and we get to see Delays play on The Guildhall stage with a Christmas tree in a big homecoming celebration!
Written by Fenton on
Steve Fenton writes in our music, words, and culture categories. He was Editor in Chief for The Mag and covered live music for DV8 Magazine and Spill Magazine. He was often found in venues throughout the UK alongside ace-photographer, Mark Holloway. Steve is also a
technical writer and programmer
and writes
gothic fiction
. Steve studied Psychology at OSC, and Anarchy in the UK: A History of Punk from 1976-1978 at the University of Reading.
Discover More Music