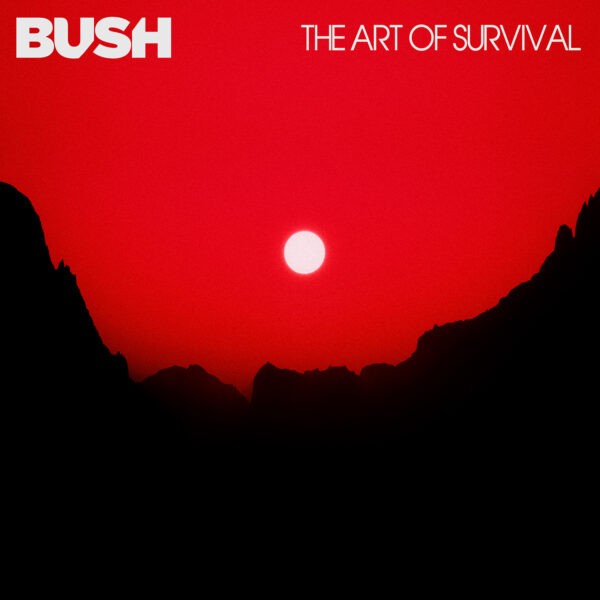 Bush
The Art of Survival LP
Since 2019s The Kingdom, Bush have developed a heavier tone. The guitars (of all string counts) on their latest album, The Art of Survival, are substantial and bring an epic slant to the ever-great songwriting.
I applaud their decision to open with 'Heavy is the Ocean'. It's a statement of intent for the record and demonstrates how the heavier sound is no hindrance to dynamics, melody, or hooks. Rossdale's vocal is equal to the task, not at all out of place amongst this atmospheric sound.
And it's not just singles like this and 'More Than Machines' that contain the good stuff; each song brings something to this collection. Similarly, motifs, riffs, and signatures emerge from different places throughout, sometimes a bit of guitar, a twinkle from the keyboards, a slamming bass line, or a smart rhythmic twist from the drums.
Across twelve tracks, I think anyone who likes the singles will like everything on the album.
Lyrically, things are abstract with a hint of the subversive and occasionally piercing clarity. There are scattered direct moments amongst the more metaphorical or enigmatic parts, songs switching from "it's a cold wind that blows… I've become so hollow" into "wars have no endings, and the kids are so cruel, and people burn people just like people love to do".
Angels manifest a couple of times in different tracks, and this is something I'm all for. One of my favourite songs on this record is the unusual 'Human Sand', which combines riffs, resonant crashing guitars, a flighty keyboard, and an almost prayer-like mantra chorus.
Rossdale's voice certainly makes an album unmistakably Bush. It's a unifying force as songs switch from big open tones to riffs and then on to wide-open bass-led sections. This record punches like an Audioslave album with System of a Down moments. Weighty, substantial, and utterly brilliant.
Written by Fenton on
Steve Fenton writes in our music, words, and culture categories. He was Editor in Chief for The Mag and covered live music for DV8 Magazine and Spill Magazine. He was often found in venues throughout the UK alongside ace-photographer, Mark Holloway. Steve is also a
technical writer and programmer
and writes
gothic fiction
. Steve studied Psychology at OSC, and Anarchy in the UK: A History of Punk from 1976-1978 at the University of Reading.
Discover More Music