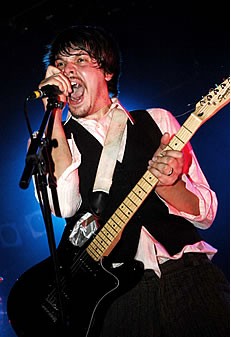 The Mag Awards
Live (Lo*Chine / Ben Dlugokecki / Dead! Dead! Dead!)
With no shortlist, nominations, or judges' decisions, The Mag Awards' winners were a truly public selection. The Talking Heads in Southampton was the host for live performances from three of the winners as well as some on-the-knuckle comedy from Toupe front-man Grant Sharkey. Both Kat Vipers (London) and Mary (Denmark) made the trip to Southampton to collect their awards – supplying us with a full-house of winning bands.
Lo*Chine started the live music by funking their way through some great songs. The bass and drums laid down a deep groove, while the guitar supplied riffs, jangles and bending notes. Singer Sarah Millard hit every note with confidence and easily engaged the crowd in between each song.
With new material glittering amongst the old favorites, Ben Dlugokecki certainly demonstrated some good reasons to look forward to his imminent album. Established gems 'Set in Stone' and 'Clog Up the System' were ably assisted by new discoveries such as 'How Do You Do'.
With some stunning angular songs and a presence on stage that makes it impossible to tear your eyes away, Dead! Dead! Dead! stormed through their set.
The after show party featured an off the cuff guitar pull, including a duet from Ben Dlugokecki and Matt Simpson (The Dawn Chorus) as well as some fine ballroom dancing from Grant Sharkey!
Written by Fenton on
Steve Fenton writes in our music, words, and culture categories. He was Editor in Chief for The Mag and covered live music for DV8 Magazine and Spill Magazine. He was often found in venues throughout the UK alongside ace-photographer, Mark Holloway. Steve is also a
technical writer and programmer
and writes
gothic fiction
. Steve studied Psychology at OSC, and Anarchy in the UK: A History of Punk from 1976-1978 at the University of Reading.
Discover More Music