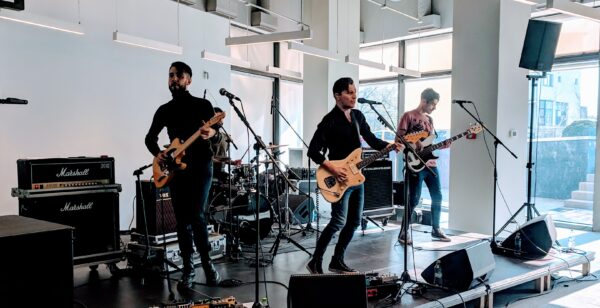 The Mono Jacks
Live
The Mono Jacks strolled onto the stage, basking in the glow of the setting April sun, and stunned me with a set full of sparkling rock and emotive post-punk.
This is a band that know about rise and fall, with melodic crystalline moments melting into pumping melancholic rock. Andrei Zamfir's guitars trickle echoing counter melodies to draw us in before foaming into life beneath Doru Trăscău's voice. Cristian Chiru's masterful bass provides both rhythm and wonderful sway alongside John Ciurea's characterful beats.
In terms of songs, its a blend of all the good stuff; Antics, Comfort in Sound, Black Market Music – it's got reflective melancholy, intelligent ebb and flow, and powerful crescendos of driving rock.
'Acum începe Totul' stands out early on, 'Unde Ești ' is smouldering layered brilliance, and '1000 De Da' is one of the best live songs I have ever heard.
The Mono Jacks took me by surprise. They are absolutely awesome and you should probably go and listen to 'Ușor Distorsionat' right now.

Written by Fenton on
Steve Fenton writes in our music, words, and culture categories. He was Editor in Chief for The Mag and covered live music for DV8 Magazine and Spill Magazine. He was often found in venues throughout the UK alongside ace-photographer, Mark Holloway. Steve is also a
technical writer and programmer
and writes
gothic fiction
. Steve studied Psychology at OSC, and Anarchy in the UK: A History of Punk from 1976-1978 at the University of Reading.
Discover More Music